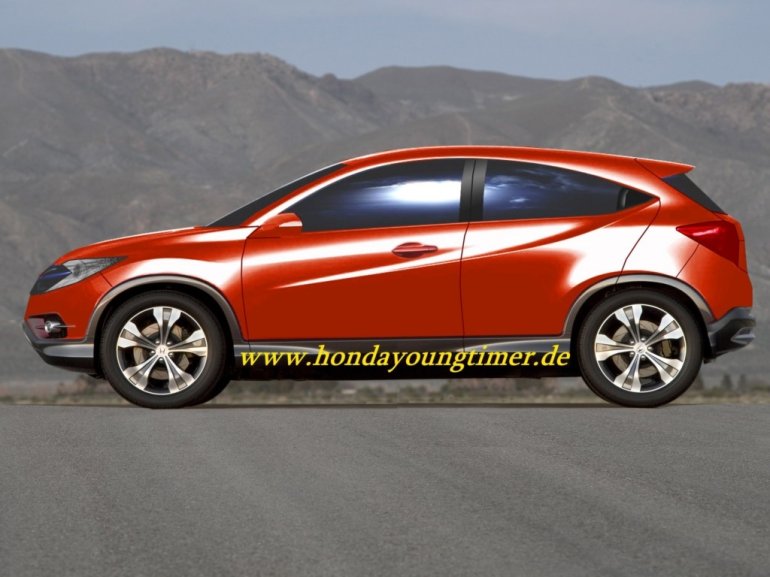 Honda had recently teased a sketch of the Jazz based compact crossover called the Urban SUV Concept that is set to take center stage at Honda's stall in the Detroit Auto Show next week.
Meanwhile, Hondayoungtimer.de's forum member who goes by the name 'Hondafreak1981' has come up with this nice rendering of the mini SUV based on the teaser sketch. The yet to be named SUV's front fascia is expected to take a leaf or two from the design book of the new CR-V.
The profile of the rendering obeys the teaser sketch implicitly and bring us closer to the real car. The upward swooping crease that starts at the front door and culminates at the edge of the rear window is easily the high point of the design.
The compact crossover could be powered by the 1.6 litre i-DTEC Earthdreams diesel engine and the 1.8 litre i-VTEC petrol engine. The power will be sent to the front wheels but an AWD version of the car is also expected.
The Honda Urban SUV Concept is "a global concept model" which means that the production version could eventually reach Indian shores as well.
With people across the globe going bonkers about the mini SUVs, the Urban SUV is just what doctor has prescribed for Honda. It is needless to say that the car will have to fight it out with Renault Duster, Ford EcoSport, Chevrolet Trax, Peugeot 2008 and countless other upcoming crossovers.
Our little crystal ball shows a massive battle waiting to unfold!
[Source: Hondayoungtimer.de]