Honda's new CB Unicorn 160 was recently launched in Delhi for an ex-showroom price of Rs 69,350. While the machine would take till the third week of January to start deliveries, here is a quick rundown on how it would stack up against its prime opponents, the Bajaj Pulsar 150, Suzuki's Gixxer, Yamaha's FZ-S V2.0, TVS Apache RTR 160, and the recently launched Hero Xtreme Sport.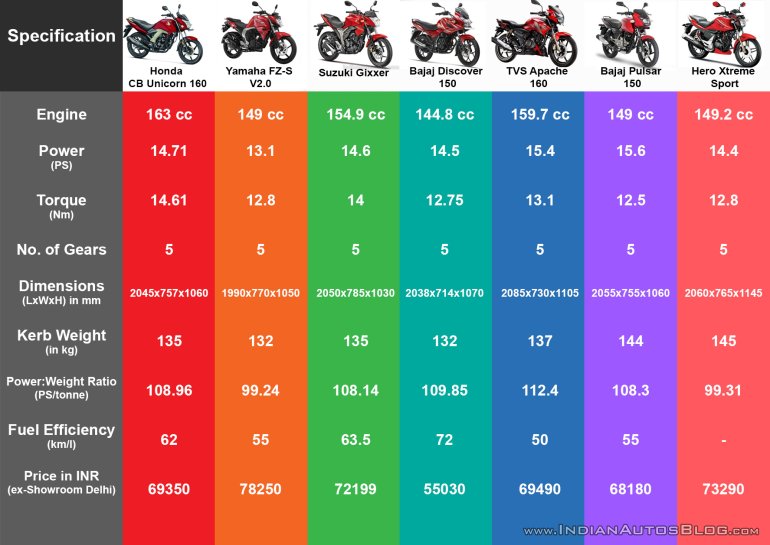 Engine:
With the new HET (Honda Eco Technology) the manufacturer promises best-in-class torque. Combined with the butter smooth power delivery that is consistent to Honda's engines, the Unicorn 160 would stand neck-to-neck in performance with the Gixxer. That said, the TVS RTR 160's short stroke engine is quick to accelerate off the line and its better power to weight ratio would add to its advantage. Although, the RTR 160's engine isn't the smoothest and Honda would still hold an upper hand when it comes to long term reliability.
Fuel Economy:
This being a battle subject to road conditions and riding styles, it would come down to the on-paper specs from the manufacturers. The Bajaj Discover 150 being the lighter one in the lot with a slightly smaller engine capacity tends to inch ahead in the race for better mileage. The Discover also has a slight upper hand in the power to weight department, but a very marginal one. The surprising one in this comparo is the FZ-S FI which is priced a lot higher due to the fuel injection system, but doesn't seem to give much benefits in terms of fuel economy.
Price:
As mentioned above the FZ-S due to its fuel injection turns out the be the costliest motorcycle of the lot. The Gixxer follows up being the second most expensive of the lot, but for the price, one gets a international build quality, delicious handling and a punchy engine. Honda's pricing for the Unicorn 160 is bang in the middle, justifying it with great build quality and features such as a digital instrument cluster and LED taillights.
Build Quality and Finish:
Honda has always been known for its build quality. While the Suzuki Gixxer offers a very close competition in that regard, Honda over powers the rest of the machines in the segment in this matter. That said, the Gixxer is considerably expensive in comparison to the Honda.