Update: Honda is still testing the Jazz EV on the Indian roads, new spy shots have revealed. Image gallery at the end of the story updated.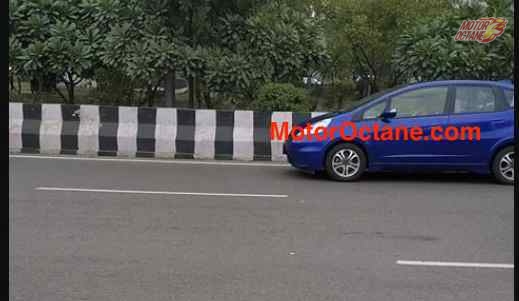 12 January 2019 -
The Honda Fit EV has shown up on the Indian roads badged as 'Honda Jazz'. News18 has posted spy shots of the car that was spotted in Delhi.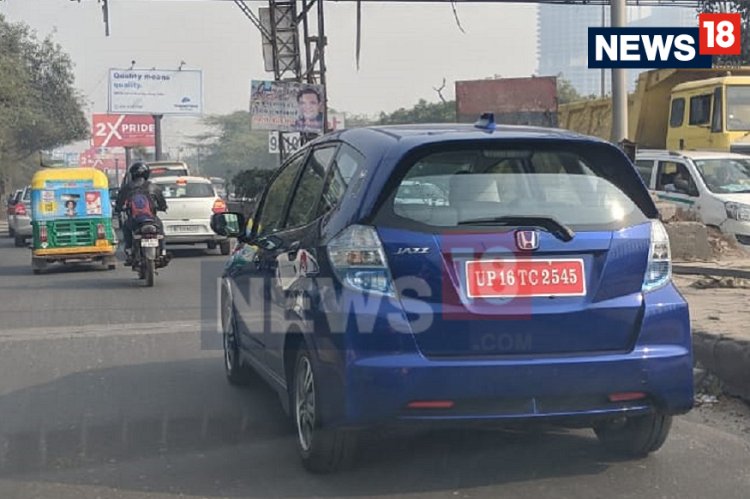 The Honda Fit EV is based on the second generation Honda Fit (Honda Jazz). It features a unique front fascia, but that's not visible in the images here. However, the unique 15-inch alloy wheels, the fin-type antenna, a distinctive rear spoiler that extends downward alongside the rear glass, the body-coloured tailgate garnish and the exclusive rear bumper confirm that we are looking at the battery-powered supermini.
The Honda Fit EV uses the MCF3 electric motor that generates 92 kW (125 PS) at 3,695-10,320 rpm and 256 Nm of torque at 0-3,056 rpm. A 331-volt, 20 kWh Lithium-ion battery made by Toshiba provides juice to the motor. The zero-emission hatchback has a pure electric driving range (JC08 test cycle) of 225 km. Its efficiency rating (JC08 test cycle) is 106 Wh/km.
The Honda Fit EV has a normal charging port on the right side and a fast-charging port on the left side. Using a normal charger (AC200V 15A), the battery takes about six hours to fully charge from low battery charge warning. Using a fast charger at a CHAdeMO charging station, the battery charges to 80% level from low battery charge warning in about 20 minutes.
The availability Honda Fit EV was limited to the USA and Japan. In the USA, it was available to private customers on a lease, while in Japan, it was available to local governments and businesses on a lease. The EV was more a compliance car.
Honda is reportedly planning a B-segment pure electric car for India, but it's not the next-gen Honda Jazz EV with a 300 km range. A low-cost model with 150-200 km range is under consideration, for launch in 2023-2024, and we suspect this EV is here for trial runs and data logging.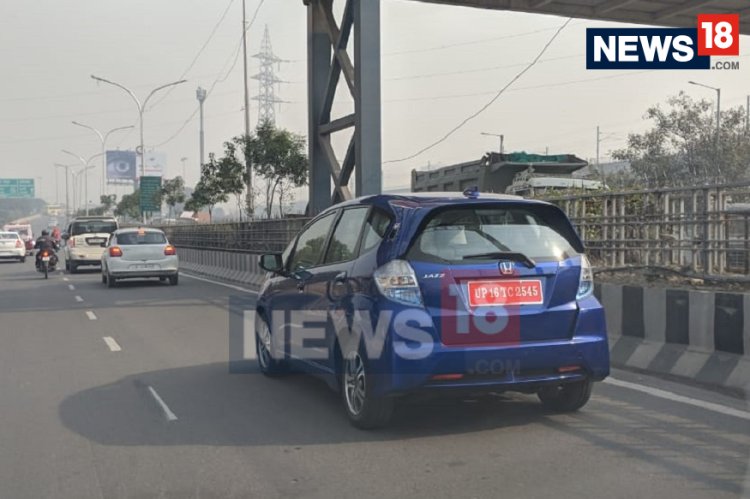 Also Read: Next-gen Honda Jazz (Honda Fit) based EV in the works - Report
The fourth-gen Honda Fit will also have a pure electric variant, offering a range of 300 km on a full charge. With the third generation model struggling in our market, the fourth-gen model's launch is doubtful. Regardless, with Honda finding even full-hybrid (locally manufactured) cars too expensive for our market, a pure electric Honda Jazz is out of the question.
[Image Source 1: news18.com]
[Image Source 2: motoroctane.com]