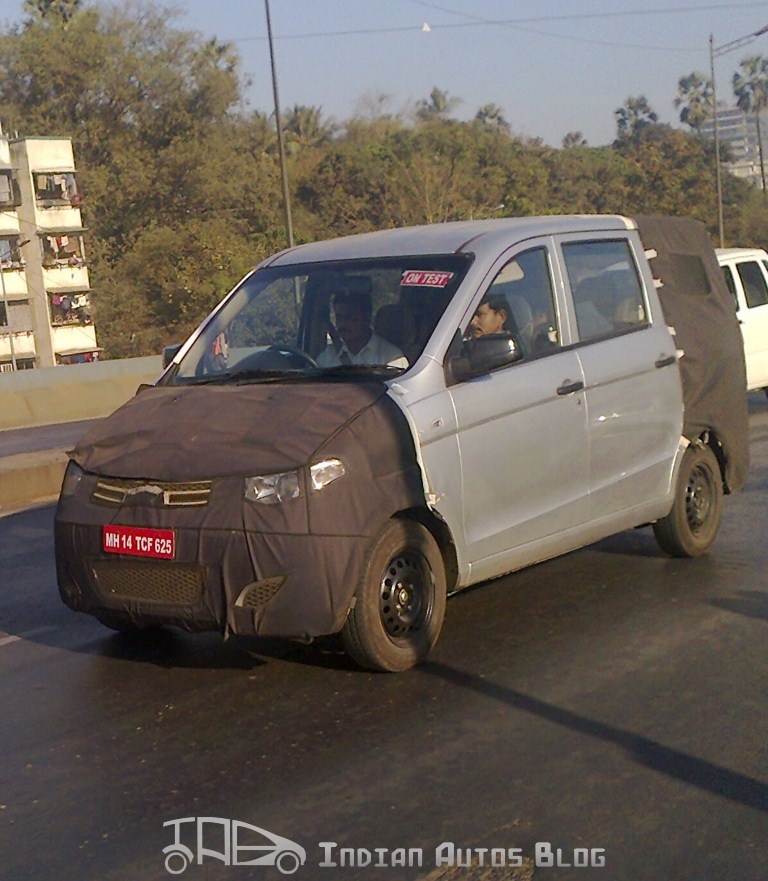 IAB reader Suhas Shirole snapped up the Chevrolet MPV (branding still work in progress) testing in Western Express Highway near Mumbai. He took a clear snap of the test mule on the Goregaon flyover of the basic model that lacks foglights.
Showcased as the Chevrolet MPV Concept at the Delhi Auto Expo, the vehicle was developed by GM-SAIC-Wuling in China and was sent to Lotus Engineering to fine tune its suspension. It is sold as the Wuling Honguang in China. The same name cannot be used in India as Wuling is an unknown brand and HongGuang may not translate to anything sensible in any of India's hundred languages.
Under the hood GM will use the Talegaon-made 1.3-liter XSDE engine. A petrol variant is possible through the use of the Aveo's 1.4-liter engine.
General Motors has invested in LPG and CNG technology and their introduction on the MPV could be in a phased manner. The company is also testing a younger brother to the Honguang (named HongTu in China and N200 in South America) that should not take longer than early 2013 to reach the market.
Chevrolet MPV spy video by Youtube uploader NormallyCrazy
The MPV could be positioned above the Sail sedan for customers with joint families. A MPV cannot cannibalize into a sedan or a hatchback's market as they two do not fascinate the same people. The Eeco and Alto co-exist peacefully and in a similar story the Venture and Manza in Tata showrooms are friends. We'll soon find out what GM has in mind as the launch will be conducted in the coming months.
Chevrolet Sail and MPV Concept at Auto Expo 2012
Can't see the slideshow above? Head to the Flickr page for the pics.