According to a photograph that was leaked from a Ford dealers meet, the Blue Oval has planned five launches for the Chinese market in 2013.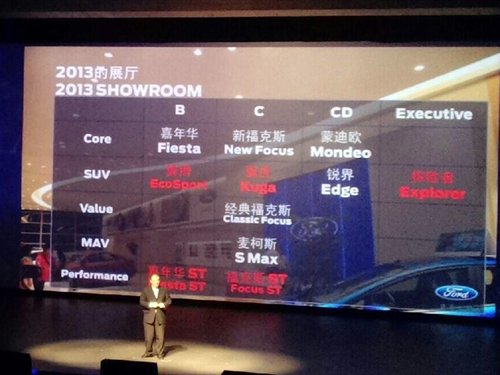 The performance models Focus ST and Fiesta ST will be launched in China this year apart from the Ford EcoSport, Kuga and the Explorer. Hence China will have launches in the B-, C- and CD-segments.
In India, Ford's main launch is the EcoSport (B Segment) besides which there could be a facelift for the Endeavour (comparable to the Explorer) and a few special editions as Ford has shown to do well in the past.
The Chinese market is many times the size of the Indian market. Like how Ford India announced 8 new products by mid-decade, China gets 15 new products. Many of these products would share a lot of components in common. A compact hatchback and sedan, along the lines of the Etios twins, is in the product pipeline for China and India. The development of this product is currently on in China.
Chinacartimes.com predicts the Focus ST will be priced somewhere around 260,000RMB, with the Fiesta ST expected to retail at 150,000RMB. Ford earlier announced its interest in being the king of the Chinese SUV segment. It'd be interesting to see if the next generation Endeavour sees the light of day in China to add fuel to this ambition.
[Source: Chinacartimes.com]