Update - Ford Figo facelift image attached.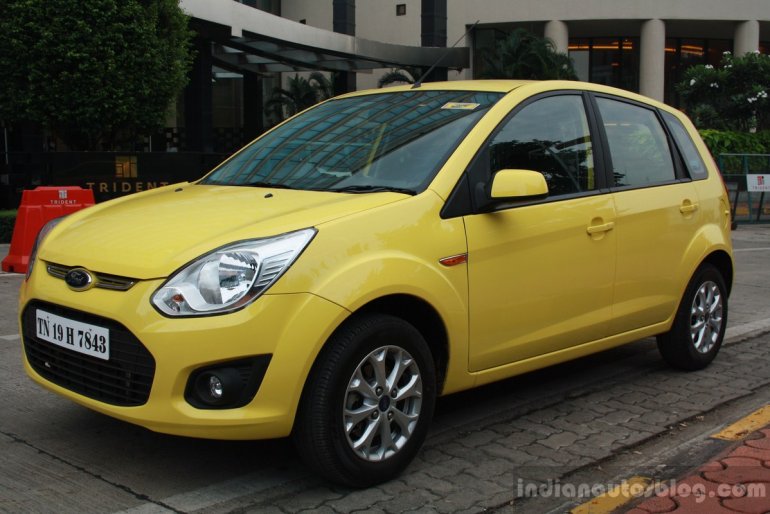 Having looked at some of the spyshots, many of which we've published here on IAB, SRK set off to digitally construct the Ford Figo facelift.
The Figo facelift is preparing to head out in the festival season with refreshed looks, new school bus yellow body paint and a few feature add-ons.
As you can see from the attached render, the indicator assembly is brought to the base of the headlight, while a new chrome slat sits on the radiator grille. Fog lights and enclosures are tweaked while the secondary grille pays tributes to the EcoSport.
Ford India's management, at the powertrain milestone celebrations earlier this month in Chennai, said down the line we "may very well see a similar operation (referring to the Ford Classic) on the Figo," and sounded very optimistic about the positive sentiment in the market during the festival season.
The management did not confirm the launch, nor did they deny it.
Why the Figo needs a change during this festive season?
The market has slowed down considerably and the only time sales will spike this year is during Diwali and Dussehra - this is the time to show something new to make full use of the opportunity.
The Figo was launched in early 2010 and is nearing its mid-life stage. Some call it the car's mid-life crisis!
Many new cars have been launched in its segment since its touch down - the Brio, new Swift, Beat diesel, refreshed Vista and the upcoming Sail hatchback are some examples. These launches will make life tough for the current Figo.
The replacement to the Figo or a car that is in the same segment as the Figo is still a few years away. Unless one is available internationally (read as next generation Ka siblings), Ford India cannot launch it in India. To maintain its market share in this segment till an all-new product is in reach, Ford needs a refresh.
Ford India's introducing the next level in the Kinetic Design philosophy with the EcoSport, and design chromosomes from this product should be injected into some of the newer products for a continuous family look. We predict the Figo's front fascia will loosely base itself on the EcoSport's for this reason.
See spyshots of the Ford Figo facelift testing in Chennai
We expect the Figo to retain the same powertrains. Ford may not find any sense in investing in an old platform, so new technologies such as Powershift, or a more powerful diesel engine, may be reserved for global platforms and products.