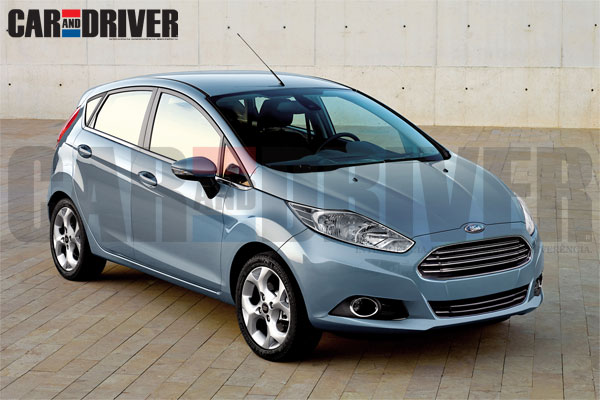 Yet another interesting post on Car And Driver Brazil in the last few weeks is the artist impression of the Ford Fiesta facelift. The author of the article claims the inspiration is unmistakably from the Fiesta ST concept car, moving the Fiesta in line with the Focus and Fusion/Mondeo.  There is less action at the rear of the car, the mildly revised stop light is the biggest change.
Ford India has never given a straightforward answer to our question on the Fiesta hatch. This has only lead to the intensification of speculations surrounding its launch. Ford's only hatchback, the Figo, is a refurbished Mk5 Fiesta. Ford introduced it to sell a product where everyone buys a car at. Between 3.5-5.5 lakh, 7 out of 10 cars are sold in our country.
Should the presence of the Figo or Fiesta Classic prevent Ford from considering the Fiesta hatchback? The whole package, bettered with the introduction of the super-efficient 1.5-liter diesel engine, feels like it was designed to blow the Swift out of the water. Being able to correctly price position this product will be the biggest challenge for Ford India. This may have been the skepticism behind the product's shelving or cancellation.
Selling two hatchbacks in India is not an alien product strategy. Maruti has the Wagon R (the Figo's rival) and the Swift running side by side and sharing space peacefully in the top 3 best selling cars in recent times. The i10 and i20 have given Hyundai a new identity in India, the i20's launch was a big risk that paid off. Tata Motors is another example, though the numbers may not be very convincing. These companies, in their portfolios, have a sedan in the same price band as the premium hatchback (Accent, Dzire, Indigo CS), but they've not cannibalized or knocked-down the similarly priced hatch.
C&D claims the launch of the hatch and sedan, in their facelifted avatar, will be simultaneous. The report also discusses the inclusion of the 1-liter 'Fox' Ecoboost engine on the Fiesta range, a magical petrol engine that will find few takers in the diesel-driven Indian market.
The Fiesta facelift program yet again throws up the possibility of Ford India using it as a launchpad to release the hatch version. I'm sure everyone here agrees!
[Artist impression sourced from CarandDriverBrasil.uol.com.br]