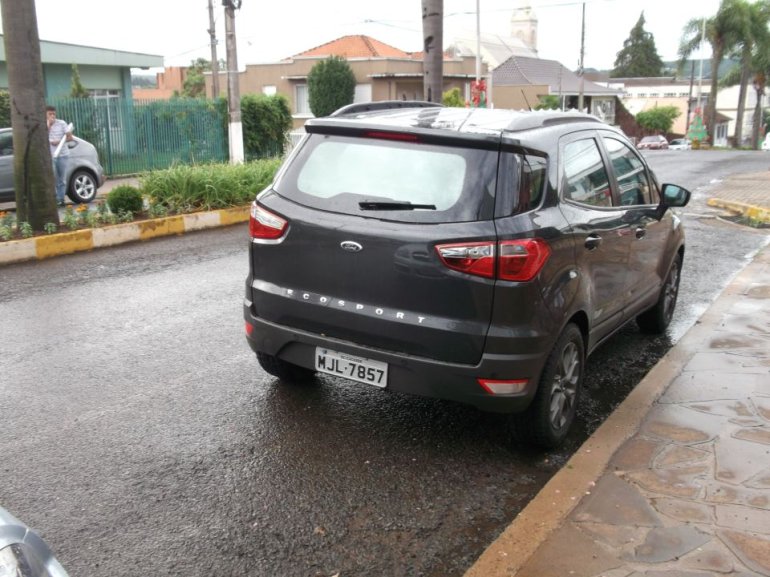 Our usual scouring of the internet led us to stumble upon this interesting photograph of Ford EcoSport in Brazil.
The mini SUV was spotted by a member of I love my Ford EcoSport group in Facebook in Brazil. The car looses its tail gate mounted spare wheel.
This particular EcoSport looks a bit bulky when viewed from the back, especially because there is nothing much on the tail gate to fill the void created by the absonding spare wheel. The blue oval logo is relocated from the lower left of the tail gate to center of it and the EcoSport badge is nicely spread, but that does not help to eliminate the sense of vacancy.
It is unclear whether it is a test mule of a possible variant or just an owner customized car. From this photo, it is impossible to ascertain whether the spare wheel is located at the floor.
The Ford EcoSport measures a little over 4 metre if the spare wheel is considered but as per Indian sub 4 metre norm, the spare wheel is not taken into account while measuring the length of the car and hence Ford India need not worry about removing the spare wheel from the tail gate.
We believe that the spare wheel at the rear gives the EcoSport the much needed SUV stance and also adds to the visual sense of overall proportion.
Did you like the EcoSport sans the spare wheel?
[Source: Blogdoecosport.blogspot.in]