The Ford EcoSport was spotted in the USA recently by Burlappcar.com. Ford of America is seriously considering launching the EcoSport, with the company's CEO, Alan Mulally, having told reporters at this year's Detroit Motor Show that "in time, the EcoSport will be here (America)".
Media interviews with Mark Fields, Ford's current COO, suggest that Ford is eyeing the compact crossover segment in USA given its emergence over the last few years. Nissan has announced a refreshed Juke, while Honda revealed the HR-V (Vezel) at the New York Auto Show this month, both these cars being competitors to the EcoSport.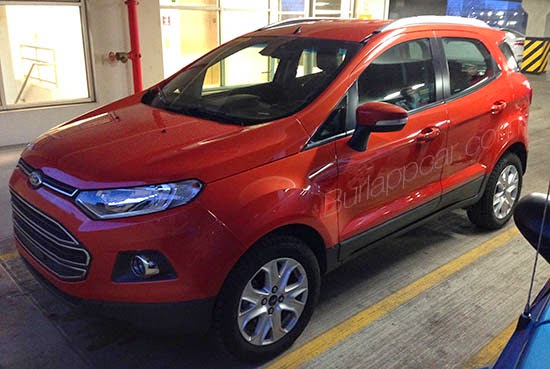 The EcoSport, when launched in America, will be powered by the 1.0-liter three-cylinder EcoBoost engine. Ford got the attention of the American media (and international media) by transporting this engine block in a check-in bag at one of the American airports, just to prove how small this engine really is.
For the American market, Ford can choose to ship the EcoSport from its Brazilian facility, which is geographically the closest to the US. However, in all possibility, USA could get the EcoSport from Ford's Chennai facility, given that this facility already exports the crossover to locations in Asia, Australia, Europe and Africa. Ford's plant in Rayong, Thailand is another facility which could bag the contract to supply EcoSports to the USA as it exports to neighbouring countries.
[Image from Burlappcar]