For people of Chennai, spotting a new car with Ford badges has become an everyday affair. The informed lot know that it is the Ford EcoSport mini SUV and take out their cameras immediately to shoot.
[Can't watch the video? Head to Youtube]
Today we bring you one such video where a couple of Ford EcoSports were caught testing in the suburbs of Chennai by a Youtube user named Mr. Rajesh Mani. The grey mule features in the most part of the video while the yellow test mule appears in the last few seconds.
The drivers of the cars were trying their best to evade the camera but it went in vain. The Ford EcoSport, according to us, is already a long overdue product considering the fact that the car made its global debut at the Delhi Auto Expo last year.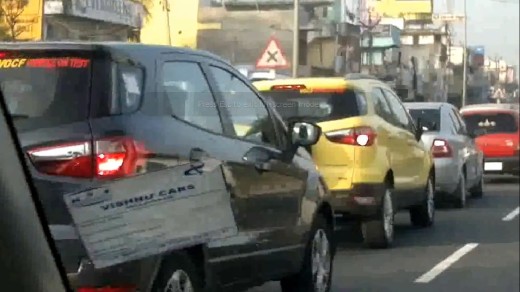 Ford India is tight lipped about the launch date of the EcoSport and many potential buyers think that the wait is simply too long. Not knowing when the SUV will be launched doesn't help their patience that has started wading away.
The Ford EcoSport is expected to be offered in Indian market with a choice of two petrol engines and a diesel engine. The 1.5 litre petrol and diesel engines will be lifted from the Fiesta while the second petrol will be the award winning 1.0 litre EcoBoost.
Renault India must be happy that they are being offered a free road ahead for the Duster until the EcoSport arrives.