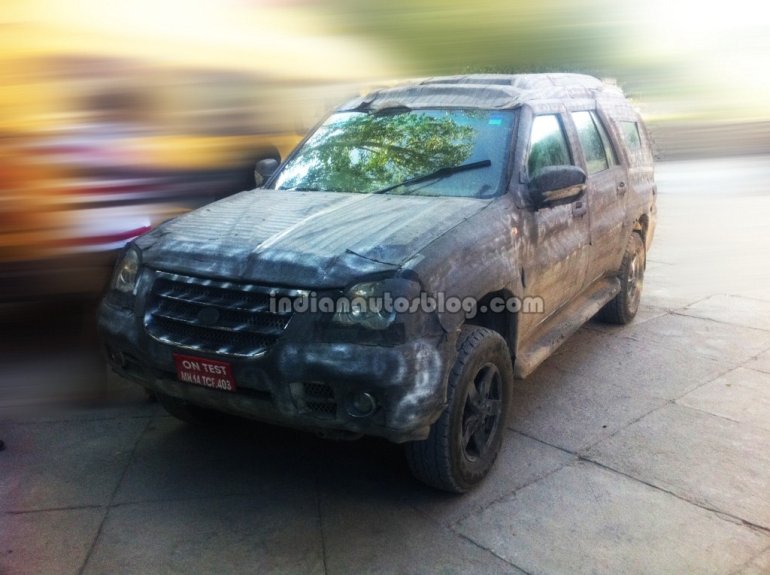 An Indian Autos Blog buff who wished to remain anonymous sent us these snaps of the Force Motors One from North India. The Force Motors One will be launched in the next few weeks with a Mercedes Benz C Class-derived 2,143cc diesel engine sending 140bhp/320Nm to the rear wheels.
Sources tell us Force Motors will see off the 4x2 version first followed by a 4x4 in a few months. Force engineers are testing the 4x4's components thoroughly and don't want to leave anything to chance.
I spoke to Mr Prasan Firodia, Managing Director Force Motors recently where he said the product will not come out until he's completely satisfied with it. The intention at least is not to perform market R&D by using the initial customers as mule testers.
Force is most likely to price the SUV between 10-12 lakh rupees. Stalwarts of the automotive world Lotus and Mercedes Benz have played important roles during the development of this beast. The suspension was tuned by Lotus while Mercedes Benz worked on the electronics and supplies them a current generation diesel engine.
A fair bit of components on the Force SUV have come from overseas. The softer components like dashboard elements and door trims are from China and Thailand. The mechanicals are however developed by Indian suppliers or by Force Motors.
Force Motors is working day and night on the One, which is their first attempt at selling a product in the personal vehicle space. Recently Force put the Trump commercial vehicles on the market using Salman Khan power on television, so they have faith in celebrity firepower.
Force Motors One spy shots
With a Mercedes Benz engine, Lotus-tuned suspension and a sensible price, will the Force SUV work well?