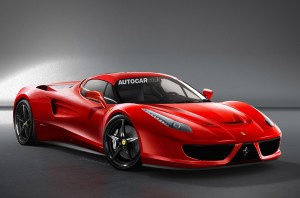 Ever since Ferrari teased the F150 on the official Ferrari Magazine, we've been waiting with bated breath to get a peek at the new supercar. Autocar UK have come out with their render of the most awaited supercar of the year and we've to say, it looks as brilliant as it is exotic.
The front is unmistakably Ferrari with the headlamps looking ever so similar to the 458 Italia and the F12 Berlinetta. The air slats on the hood appear very deep and cover the majority of the front.
While we've seen previous Ferraris such as the F50 and the Enzo with the deep air intakes on the hood, none have been this aggressively styled. The air dams of this F150 aren't just secluded to the hood either. The entire front bumper seems to feature air intakes and Ferrari have been saying that the F150 will offer 'radical active aerodynamics'.
The side profile of the F150 clearly suggests that like its predecessor - the Enzo - gullwing doors will be offered. In fact, the part where the door meets the rear of the car is very reminiscent of the yester-year Ferrari's, however they do look very modern. Maybe because even the yester-year Ferrari's can be considered as modern cars in today's time and age. Or maybe because only Ferrari can pull off such a design cue!
However, whether the real deal can look as good is a key question. Its only a matter of time before the Maranello based firm releases the images and the number's we've all been waiting for.
You can get the technical details on the Ferrari F150 here.
[Source - Autocar.co.uk]