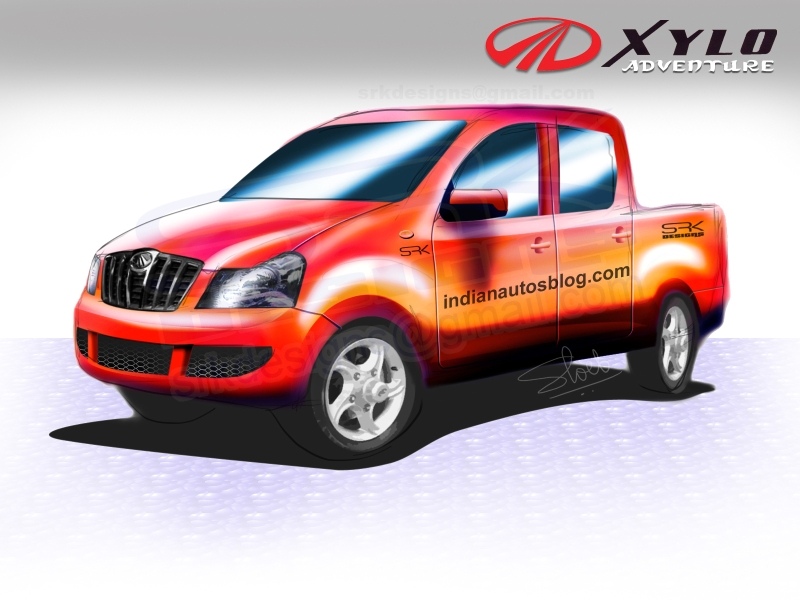 Shoeb Kalania, who has the regular habit of reading Indian Autos Blog, sent us a rendering of the Xylo pickup truck after he read about it here. Shoeb runs SRK designs, a studio that focuses on automobiles that are months, sometimes years from a production line.
The Xylo pickup truck would come about from Mahindra's Nashik plant later on in 2009. Demand for a lifestyle pickup in the country would understandably not be as much as in South Africa or say Thailand. The idea would be to allocate a small portion of the stock to India and the rest overseas.
Mahindra, by introducing the Xylo is trying to operate with full steam in Nepal, Bhutan and South Africa where demand for bigger vehicles is comparatively more. The Xylo pickup we hear, would percolate into countries as far as Egypt, Italy and parts of Africa where the Scorpio has visited.
We thank Shoeb for sending us his idea of the Xylo pickup. Unlike the Tata Xenon which harbors planes and a boxy design, the Mahindra Xylo pickup would use curves and rounded edges. The mEagle 2.5-liter CRDe engine should also be carried over from the Xylo.
Head over to SRK designs to see what this guy is capable of.