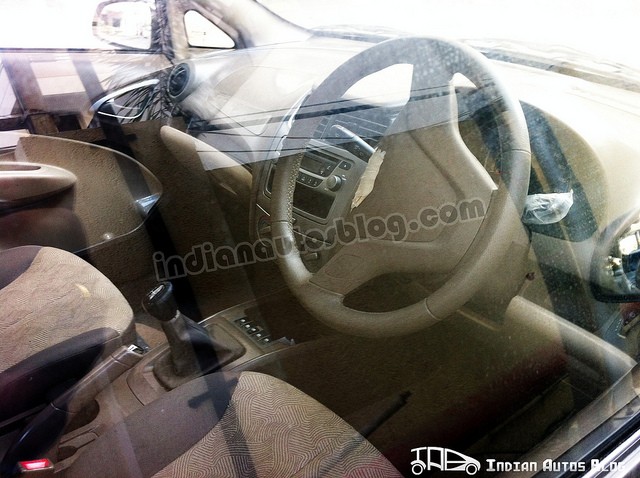 Indian Autos Blog reader Satyajeet Bhaskare sent in high resolution pictures of a lazily camouflaged Chevrolet Sail sedan exposing its interiors for the first time. The Sail sedan is a product of the collaborative efforts of General Motors and its Chinese partner SAIC. The latter owns a fat stake in GM India cited as a key reason for the Sails to precede the Sonic siblings into India. The Sail was developed in China and is one mild facelift old already in its native place!
The hatchback version of the Sail was revealed at the bygone Delhi Auto Expo. General Motors India officials were not very forthcoming on the car's specifications. They did not allow pictures to be taken of its interior and said nothing about its price.
The same limitations applied to the Chevrolet MPV concept (Chinese readers identify this as the Wuling Hong Guang) that shared the Sail's display area. During a chat with one higher official in the GM pavillion, it was confirmed that the Aveo twins will phase out to make room for the Chinese visitors.
We'll be surprised if the model spied by Satyajeet is the highest variant as it has very little going for it.
There are no steering mounted controls we can see or auto climate control present on the Beat sitting a segment below. The interiors are a bit plain except for the chrome on the door handle and brushed aluminium finish on the release of the front door that act as relief.
The Sail uses India's national diesel engine if you might - the popular Fiat Multijet engine displacing 1.3 liters is taking up yet another assignment this time reporting to GM India. The 1.4-liter petrol engine fortified with Smartech technology could provide high fuel economy and keep the cost in control.
Being a Chinese product, the first expectation is a groundbreaking starting price. GM has not shied away from price wars in the past, the Cruze, Beat and Spark are ready examples. The Sails could undercut most of the B+ segment sedans. It could be a Dzire rival as the price of the Tata Indigo CS. GM come on! Show us what you got!
Chevrolet Sail sedan close-up spy pics
Can't see the slideshow above? Head to the Chevrolet Sail sedan spyshot gallery to view the images directly.