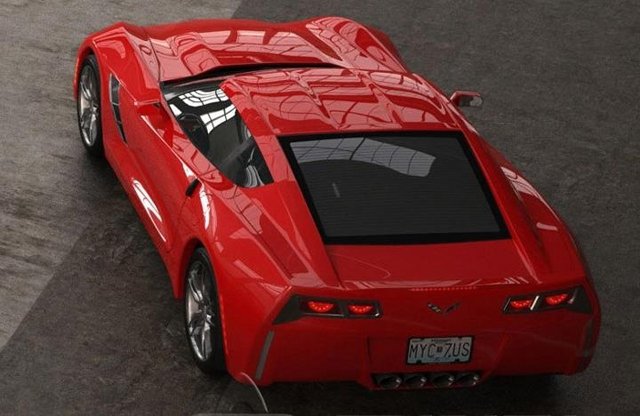 The Detroit Motor show is scheduled for January 13 and we can't wait to see what's in store.
There are several interesting cars that are headed to Detroit such as the Mercedes E Class, Mercedes CLA, BMW 4 Series Coupe, Honda's Urban SUV concept and many more.
But the car that easily is the show stopper is the seventh generation Corvette – Chevy's new halo car and America's answer to the Italians!
Inspired by the Corvette Stingray Concept of 2009 (Yes, SideSwipe from the Transformers Movie, you also got a glimpse of it at the Delhi Auto Expo), the all-new Corvette has been under development since 2007.
General Motors has used cutting edge technology such as Carbon-fiber floor, hydroformed-aluminum main members and die-cast magnesium cross members to make sure that the platform is rigid yet very agile. The composite materials have kept the weight under 1500 kg.
The new Corvette will be powered by a new LT1 V8 engine that pumps out 450 bhp and 609 Nm of torque. The engine will feature cylinder deactivation technology which deactivates four-cylinders under low loads to return 11kmpl – That's very good for a supercar that can pull from 0-100 km/hr in under 4 seconds.
The engine will be available with a seven-speed manual developed by Transmission Technologies or a six-speed auto developed by Aisin AW. An electrically assisted rack-and-pinion steering will be standard. Magnetorheological dampers and Brembo carbon-ceramic brake rotors will take care of the ride and braking.
Some more interesting technologies such as Active Rev Match (ARM), a Performance Data Recorder (PDR) and Engine Sound Management (ESM) will take care of the overall experience of driving a Corvette C7.
Prices are expected to start at USD 55,000 (around 30 lakhs) making it slightly more expensive than the previous generation Corvette but the American media calls it exceptional value.
[Source: Caranddriver.com; Rendering - GMInsidenews.com]