Here at Indian Autos Blog we restrict our news reporting to cars and the occasional light commercial vehicle. Though we love buses, we're not fascinated by them. They've looked the same since the first example was made.
Though they are turbocharged and have 6-10 cylinder engines, they can't be fitted with spoilers or driven spiritedly around a bend. They can't be parked outside a home (without blocking your neighborhood), they aren't sporty, a hot version cannot be spun off and list continues on..
These pictures were shared with us by our readers who thought its time we change. The problem is if you show us photographs of an upcoming product from the design room or of a showroom model, chances of us identifying it are same as us spotting a needle in a haystack. If you camouflage it, its like we're sitting in a surprise calculus test.
What we know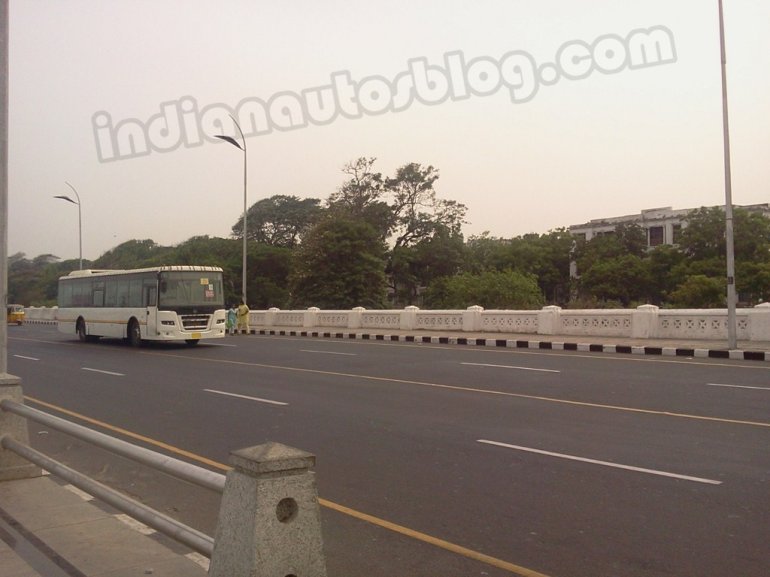 The test mule on the left is an Ashok Leyland. In layman's terms, this bus is inspired by the Volvo intercity models, but looks a lot more inexpensive. This image was sent in by Rajagopalan while he was walking by the Marina beach in Chennai.
The test mule you see above the fold is a single axle Volvo, but that's about all we know now. The photographs were shared by Sujith Nair, our reader from Bengaluru.
Now go on, use our comment box below this post to tell us what you know or what you think they are.