Powered by a single cylinder engine.
BMW Motorrad has unveiled the BMW Concept Stunt G 310 at the Salao Duas Rodas motorcycle show in São Paulo today. The company does not state in the press release that the motorcycle, modified for stunt riding, is the first fruit of its partnership with TVS, but it's a clear first look at what is codenamed as the TVS-BMW K03. BMW says the front view of the bike has been modelled with expressive surfaces and was designed to result in a broad shoulder section. The side of the bike is characterized by the "powerful three-dimensional design of its surfaces." With an interplay of contours, BMW aimed to create a sense of motion and speed even when the bike is parked.
The silhouette of the bike is arrived at by the low-slung front and the raised tail section. The intake area has been shifted towards the front while the exhaust system has been moved closer to the rear, helping place the rear silencer in an standing position underneath the seat. This has opened up the rider's freedom of movement. Nevertheless, BMW says the sound of the bike will get attention, though one cannot see the exhaust clearly.
The BMW Concept Stunt G 310 is powered by a new single cylinder engine "which is inclined towards the rear and the cylinder head which is rotated by 180 degrees." This has allowed the engine to be placed optimally and a shorter wheelbase was possible, helping make the bike as agile as it can be.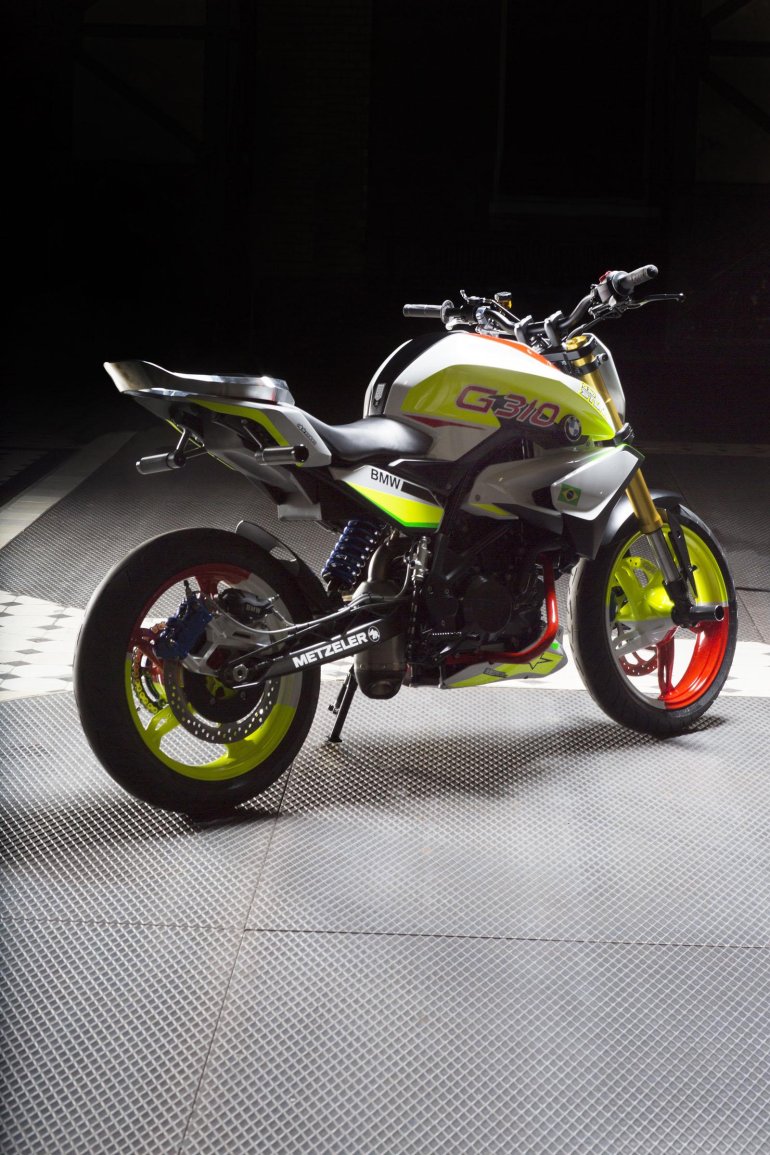 The Indo-German joint venture is likely to use the K03's platform to spawn a roadster, a sportsbike and a GS-like adventure tourer, reports have said in the past.
You can refer the press release below for further details.
BMW Concept Stunt G 310 - Press Release
[Slideshare direct link]