Bajaj has been known to make interesting advertisements for the Bajaj Pulsar range.
The Bajaj Pulsar brand needs no introduction. The motorcycle series has redefined performance motorcycling in India. However, one particular advertisement has been listed in the 100 most misleading advertisements by Advertising Standards Council of India, reports ETAuto.
ASCI claims that the advertisement shows a rider performing stunts in regular streets and marketplaces which contradict the claims made in the advertisements. The advertisement campaign which was launched by Bajaj to celebrate 15 years of the Bajaj Pulsar brand. Bajaj claims that all the stunts have been performed in a safe environment and carry a disclaimer.
ASCI adds that even with a disclaimer these stunts encourages the general public to replicate them, which might lead to serious injuries both to the rider and people nearby.
Mr Sumeet Narang, Vice President, Bajaj Auto said
We have received communication from ASCI regarding a couple of sequences in a Pulsar campaign. Pulsar is a performance brand and all our films are shot under a controlled environment using expert riders. The sets and CG work is done in a way to give it a realistic look. The creative depiction of the sequence is what has been questioned. We have briefed our agency to relook at the sequences mentioned to ensure complete compliance with laid out guidelines.
Bajaj Auto has recently launched the 2017 range of Pulsars. The updated lineup includes the Bajaj Pulsar 220F, Pulsar RS200, Pulsar NS200, Pulsar 180, Pulsar 135LS and recently the Pulsar 150.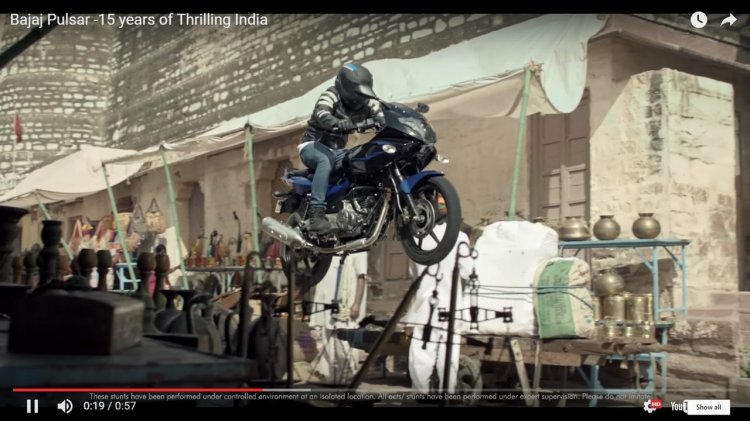 The company also made an entry into the bigger capacity motorcycles with the Bajaj Dominar 400 which will also be sold in several of its export markets including Turkey, Chile, Peru and Russia.
[Source: ETAuto]