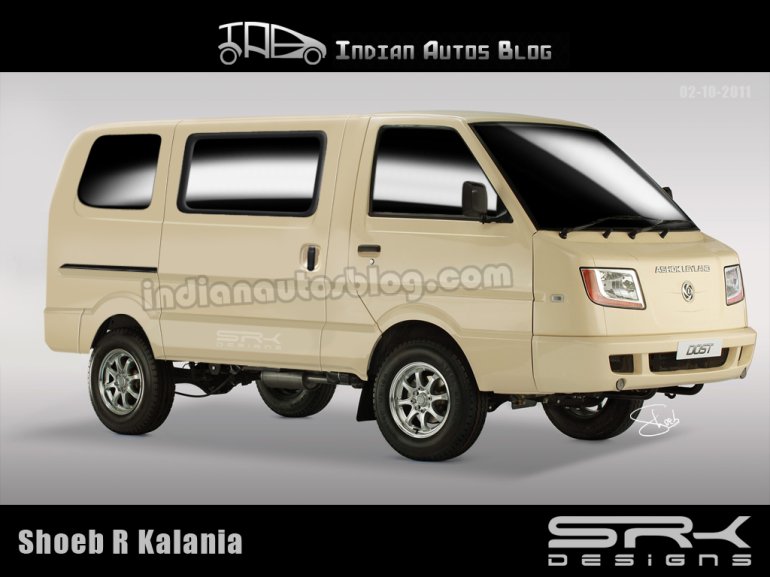 Recently, Ashok Leyland launched their flagship LCV Dost in Mumbai at a price of Rs. 3.79 lakhs to Rs. 4.37 lakhs.
The Dost platform is co developed with Nissan and will transform into many Ready-to-Use Vehicles (RUVs) such as Refrigerated containers, Steel containers, Ambulance, Aluminium Fixed Side Decks and Service-At-Site vehicles.
However the company has major plans to launch a Van based on the Dost.
This is not something new to the Indian Automotive scene. Many LCVs have transformed themselves in van for commercial uses. A few that come to our mind are Tata Ace and Mahindra Maxximo.
These vans are very effective runabouts in rural India which demands a robust car which can handle rough usage. What can be more tough than a modified pick up truck right?
During the launch of the Dost, Dr V Sumantran, executive vice chairman Ashok Leyland commented that it will be an 8 seater van and will be launched very soon. SRK, our in-house design genius, has speculated what this upcoming van may look like.
Most LCVs keep their front fascia intact when they transform into vans. Thus the Dost Van will look very similar to the donor vehicle. Of course, alloy wheels are optional extra.
Similar in dimensions and capacity to the Super Ace, the passenger carrier has to be the Tata Venture's counterpart and not compete with the smaller and no-frills Maxximo or Magic. The Dost passenger edition could be a more value package instead of a bare bones share-van concept.
It must have well appointed interiors, plenty of useful features and functions, supportive seats with height adjustable head rests, beige interiors, air-conditioning and charging points for laptop computers. Instead of plastic curtains and half doors, sliding doors and glass windows have to be installed making it a tempting option for families as well. Ashley should consider giving it side cut-ins, kinks to the C-Pillar and a chunky stoplight.
The Dost passenger edition will be aimed at transporting school and college staff members, IT company employees, tourists and a small portion could come from customers in extended families.
In order to accommodate 8 people, the Dost van will have 2 rows of seats facing each other at the back (à la Maruti Omni). It will be powered by the same 1.5 litre, 3 pot, common rail TDCR generating 55 bhp and 150 NM of torque. It will be mated to a 5 speed manual transmission. Ashok Leyland should standardized as many creature comforts such as air conditioning, power steering and attractive dual tone interiors.
Can we expect a 2012 Auto Expo debut for the Dost van?