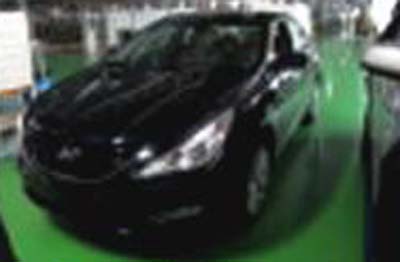 From the low-res spy shot of the Hyundai Sonata YF/i40-
Pull back headlamps, swooping windshield, convex bumpers, thin and wide indicator lamps etched on the bumpers, a radiator grille that is reminiscent of the Tata Prima, are more or less the chromosomes of the modern Hyundai.
Spyshots told us the design language of the new Hyundai Sonata YF/i40 is bold and original and hasn't been inspired by BMW, like the current model.
Watch the shape of the headlight and the angle of the windshield carefully. They are in sync and go with the flow of the car. If you look at the present Sonata, you would not find that.
The Hyundai Sonata YF will be powered via a variety of petrol, diesel engine, and not to forget a hybrid sources. Body styles will include a station wagon variant for European customers.
Reports so far point out the Sonata YF/i40 is a big leap for Hyundai in terms of design, materials, space, comfort, packaging compared to the existing Sonata or its competition.
It has been spied on a few dozen instances when it was out on routine testing across the globe cold weather, hot weather, you name it, it was there. Interestingly, a lot of enthusiasts used photoshop to render the Sonata YF based on the images.
The car is expected in India soon after its international debut.
The Sonata YF has got all our attention and we can't wait to see high resolution shots of the car.
The clock is ticking and as every second passes by, we're inching closer to the launch of the Hyundai Sonata i40/ YF.