A new Kawasaki micro website has three countdown timers. The first countdown, which ends on 7 October, will most likely reveal the Japanese brand's ATVs and Jetskis. The first event will also bring out a single motorcycle. However, the second and third countdowns are the more interesting ones. Kawasaki will reveal more products from its 2020 motorcycle line-up on the latter timers that are scheduled for 23 October and 4 November respectively.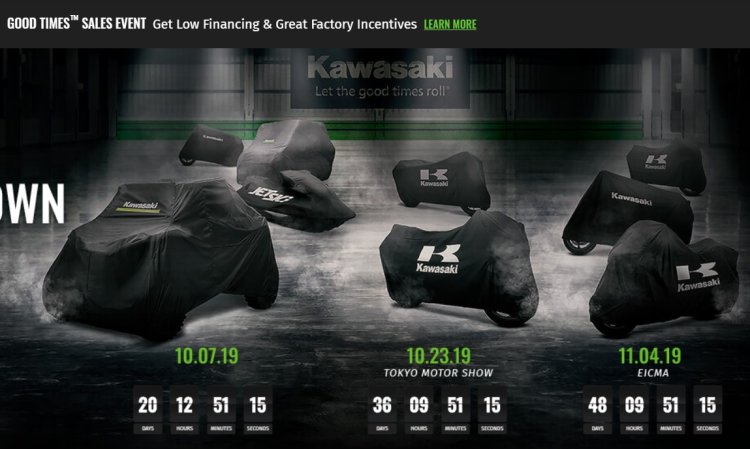 Also Read: Kawasaki Ninja 400 gets two new colour options in India
Se seen in the teaser image, 23 October will witness the unveiling of new products at the Tokyo Motor Show in Japan, while the 4 November will bring Europe-bound products at the EICMA show in Milan. So what can you expect to see on the two dates mentioned above?
For starters, Kawasaki will reveal the Euro-V compliant variants of its existing range. Apart from the mechanical upgrades, we could see new paint and graphics on the upcoming products. The company will also expand its portfolio with the launch of new products, including a new, inline four-cylinder-powered Ninja 250/ZX-25R join the list of motorcycles from the Japanese brand. Looking at the teaser image, we could see five products at the two motoring events.
A report from earlier this month claimed that the ZX-25R will be available in two variants. Recently leaked information about the ZX-25R's spec sheet indicated that the quarter-litre model will make 42 PS to 46 PS of peak power. In contrast, an earlier report suggested that the ZX-25R will make 60 PS of peak power. We will get a clear picture in about a month.
In other updates, the Japanese brand recently teased another upcoming motorcycle that will come under the Z family tree and feature a supercharger. The details are scarce right now, but we may see a naked roadster version of the H2 at the upcoming motoring events in Japan and/or Italy. Regular readers would know that Kawasaki's current supercharger-equipped motorcycle range comprises H2, H2 Carbon, H2R (track-only), H2 HX and H2 HX SE.
The upcoming naked roadster will most likely share its 998 cc inline four-cylinder, liquid-cooled, four-valve, supercharged engine with the H2 series, although the performance numbers may be relatively lower. The current mill on the H2, for reference, makes 231 PS (243 PS with RAM air) at 11,500 rpm and 141.7 Nm at 11,000 rpm.
Also Read: Kawasaki Ninja ZX-10R launched in a new colour option in India
We expect to see the supercharged naked roadster to be launched in India in 2020. The ZX-25R, on the other hand, will carry a very premium price tag, and thus it will most likely be available in limited numbers (maybe imported to order) in our market.
[Image Source: Iwanbanaran.com]