The 2019 BMW Z4 was imported to India for local testing last year, and now, IAB reader Pradynesh Gandhi has shared a spy shot showing the car undergoing emission testing. The all-new model, which is the production version BMW Concept Z4, is expected to go on sale in our market in the coming months. The 2019 BMW Z4 has been developed alongside the 2020 Toyota Supra under a joint project between the respective German and Japanese car manufacturers. In spite of this, however, the models feature different characteristics that help them establish clearly distinct identities. The Bimmer is a roadster, while the Supra is a coupe.
Visually, the 2019 BMW Z4 mimics the BMW Concept Z4 in no small extent. The highlights of its aesthetics include a short front overhang and a short wheelbase. The latest-gen model measures 4,324 mm in length, 1,864 mm in width and 1,304 mm in height. Compared to the last generation, the latest iteration is 85 mm longer, 74 mm wider and 13 mm taller.
That said, unlike the previous version, the 2019 Z4 misses out on a hard aluminium top. Instead, it features an electrically-operated fabric roof that can open or close in 10 seconds. A hard top has been done away with it in the interests of weight saving. The new car is said to be as much as 50 kg lighter than its predecessor.
The highlight of the dashboard is an iDrive 7.0 infotainment system supports voice and touch commands as well as a conventional rotary controller. Another talking point of the cabin is the 10.2-inch all-digital speedo cluster. The latest cabriolet in the Bavarian car manufacturer's lineup offers a boot space of 281 litres, which stays intact regardless of the status of the roof. In comparison, the earlier model offered a maximum cargo space of 310-litres, which reduced to 180-litre on folding the roof.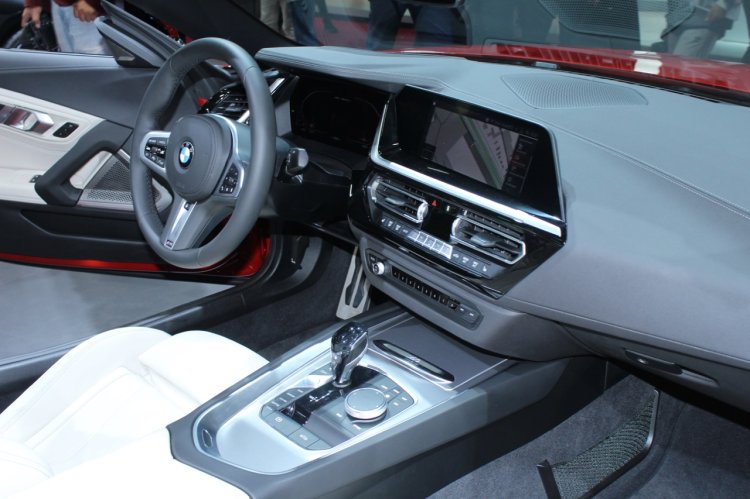 Also Read - 2019 BMW 7 Series vs 2016 BMW 7 Series - Old vs New
BMW will offer the 2019 Z4 internationally in three engine variants - sDrive20i, sDrive30i and M40i. While the top-spec version gets its juice from a 3.0-litre straight-six petrol motor, the former two options are powered by a 2.0-litre four-cylinder turbocharged engine. It will launch the all-new model in Europe in March 2019.