Has strong influences from the S-Class for the exterior.
The 2017 Mercedes E Class is expected to make its debut at the 2016 Detroit Motor Show and the latest sighting of one its test prototypes comes from Stuttgart, courtesy of Autoesporte reader William Blanco Muniz.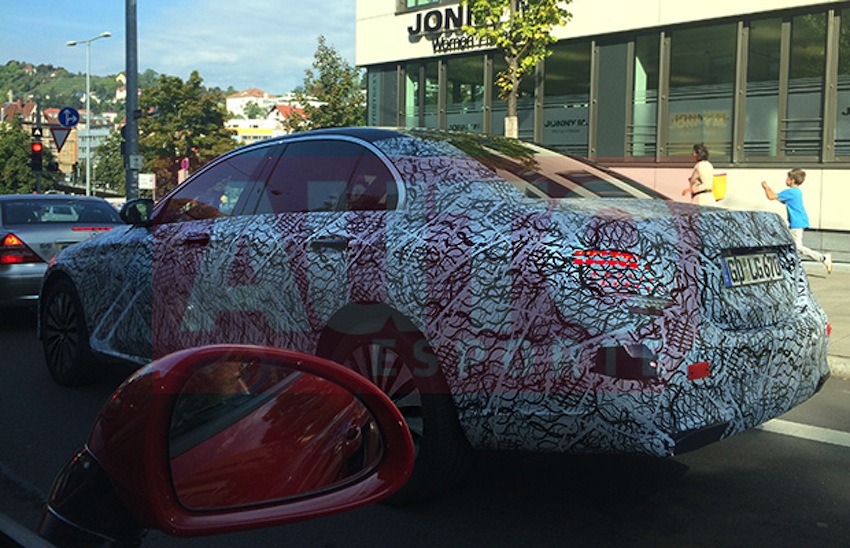 The new E Class (codenamed Mercedes W213) is based on the aluminium intensive MRA platform that will make the sedan lighter and sportier than the outgoing model. The influence of the S-Class in the exterior design can be clearly seen with smooth edges and less angular elements.
The interior, though not pictured here, takes inspiration again from the S-Class with all-digital instrument cluster, with some reports saying that the final spec will share more in common with the Concept IAA unveiled at the Frankfurt Motor Show last week. The cabin will likely have a low button count, higher quality trim and leather upholstery, premium Burmester sound system and a standalone COMAND infotainment screen on the dashboard.
Several new features will be seen in the new E Class like Remote Parking Pilot that automatically parks the car in tight spaces, Car-to-X communication system that lets the car interact with other cars having the same tech and Pre-Safe sound - a system which prepares the occupants ears for loud noises that are the eventuality of an accident, by sending an interference signal to the ear before the accident happens. Lower variants of the 2017 Mercedes E-Class will use the next generation four-cylinder diesel engines codenamed 'OM654,' alongside existing four-cylinder gasoline engines, while higher variants will offer an all-new range of inline six-cylinder turbo engines, say reports. According to a more recent report, the new generation diesel engines will emit fewer than 100 g/km of CO2.
The new E Class will make its way to the Indian market by middle of next year, once it has been launched by early 2016, with reports stating that the car will be unveiled at the Detroit Auto Show in January.
2017 Mercedes E Class - Image Gallery
[Source: Autoesporte]