Will be available in five new exterior colours.
The 2016 Volvo V40 (facelift) and 2016 Volvo V40 Cross Country have made their public premiere at the 2016 Geneva Motor Show. The Volvo V40 hatchback was originally introduced at the Geneva Motor Show in 2012.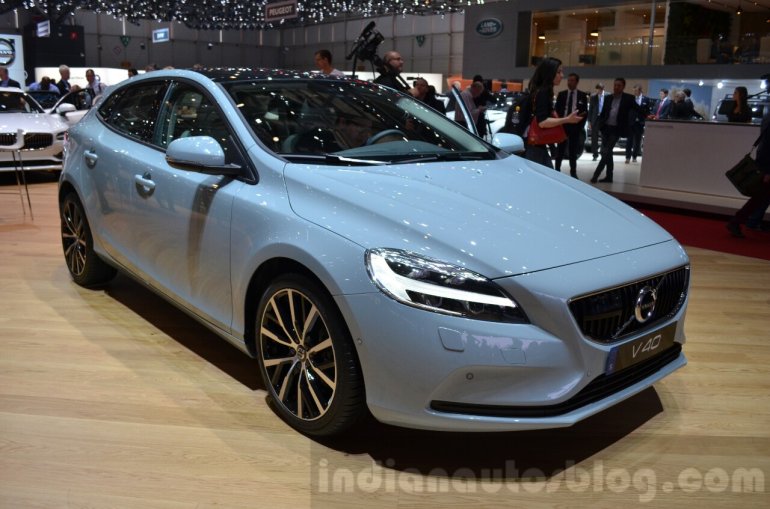 In terms of the exterior, the changes include new grille meshes that incorporate the new and more prominent Volvo Iron Mark, and the 'Thor's Hammer' headlights with striking T-shaped LED daytime running lights seen on the Volvo XC90, Volvo S90 and Volvo V90.
Five new bodypaint choices will be available now: Amazon Blue, Denim Blue, Bursting Blue, Mussel Blue and Luminuous Sand. Amazon Blue and Denim Blue are completely new colours, while the remaining three are offered on the brand's other models. Differentiating the variants and trim levels, are new rank marks that were introduced with the second generation XC90. Inside, the 2016 Volvo V40 remains nearly the same as before, at least in terms of the equipment layout. The facelifted model gets a new City Weave upholstery borrowed from the Volvo Concept Estate, Charcoal/Blond steering wheel option, Milled Aluminium, Black Grid Aluminium and Stealth Aluminium interior panel trims, contrasting stitching for the trim-coloured door inserts, and optional black headliner are among the other new features. New tread plates in the Inscription trim levels and the R-Design variant round-up the interior enhancements.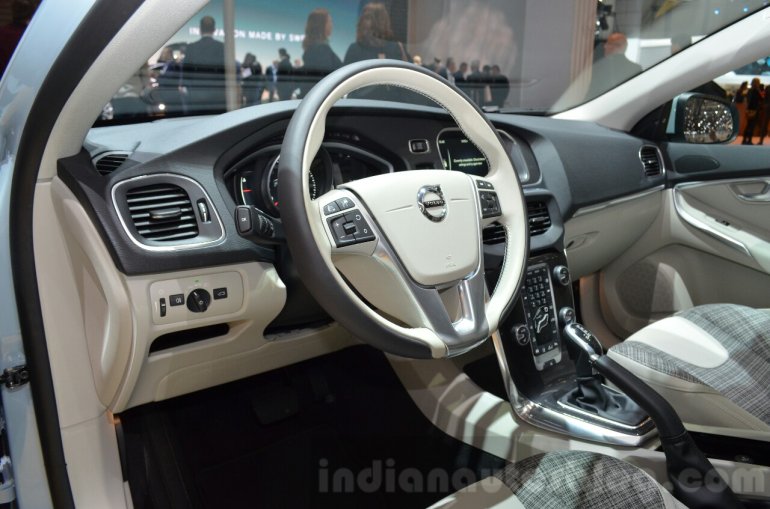 The engine and transmission specifications remain mostly unchanged. The only mention from Volvo about the technical aspects is that the CO2 emissions rating of the 120 hp 2.0-litre diesel engine (in standard variant) has reduced from 94 g/km to 89 g/km.
The 2016 Volvo V40 (facelift) will be available in the following technical configurations:
T2 (B4204T38) - 2.0-litre turbocharged four-cylinder petrol engine (122 hp/220 Nm), 6-speed (M66H) manual transmission, front-wheel drive
T2 (B4154T5) - 1.5-litre turbocharged four-cylinder petrol engine (122 hp/220 Nm), 8-speed (AW TF-71SC) automatic transmission, front-wheel drive
T3 (B4204T37) - 2.0-litre turbocharged four-cylinder petrol engine (152 hp/250 Nm), 6-speed (M66H) manual transmission, front-wheel drive
T3 (B4154T4) - 1.5-litre turbocharged four-cylinder petrol engine (152 hp/250 Nm), 8-speed (AW TF-71SC) automatic transmission, front-wheel drive
T4 (B4204T19) - 2.0-litre turbocharged four-cylinder petrol engine (190 hp/300 Nm), 6-speed (M66H) manual transmission or 8-speed (AW TF-71SC) automatic transmission, front-wheel drive
T5 (B4204T11) - 2.0-litre turbocharged four-cylinder petrol engine (245 hp/350 Nm), 8-speed (AW TG-81SC) automatic transmission, front-wheel drive
D2 (D4204T8) - 2.0-litre turbocharged four-cylinder diesel engine (120 hp/280 Nm), 6-speed (M66H) manual transmission or 8-speed (AW TF-71SC) automatic transmission, front-wheel drive
D3 (D4204T9) - 2.0-litre turbocharged four-cylinder diesel engine (150 hp/320 Nm), 6-speed (M66H) manual transmission or 8-speed (AW TF-71SC) automatic transmission, front-wheel drive
D4 (D4204T14) - 2.0-litre turbocharged four-cylinder diesel engine (190 hp/400 Nm), 6-speed (M66H) manual transmission or 8-speed (AW TF-71SC) automatic transmission, front-wheel drive