To make its debut later this year.
Toyota is working on the next generation Prius and Prius PHEV, which is expected to make its debut either at the Tokyo or Los Angeles Motor Show (both scheduled for November 2015). Japanese magazine Best Car have published an unofficial rendering of the 2016 Toyota Prius and 2017 Toyota Prius Plug-in Hybrid variants, as well as some technical details on the two.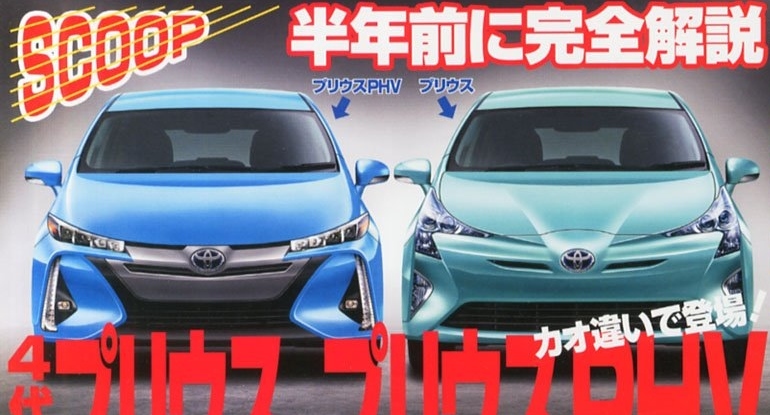 In standard JDM-fashion, the Toyota Prius is rendered with a wild and radical design that - if similar to renders - is expected to turn heads. It borrows design cues from the Mirai FCV and C-HR Concept, which has been integrated in the render. Both variants are expected to get significantly different designs to set themselves apart in the segment.
Compared to the outgoing model, the next generation Prius will, reportedly, be 4,550 mm long (+70 mm), 1,770 mm (+25 mm) wide and 1,490 mm tall with a wheelbase of 2,700 mm. It is also expected to be lighter, tipping the scales at 1,280 kg (30 kg lighter).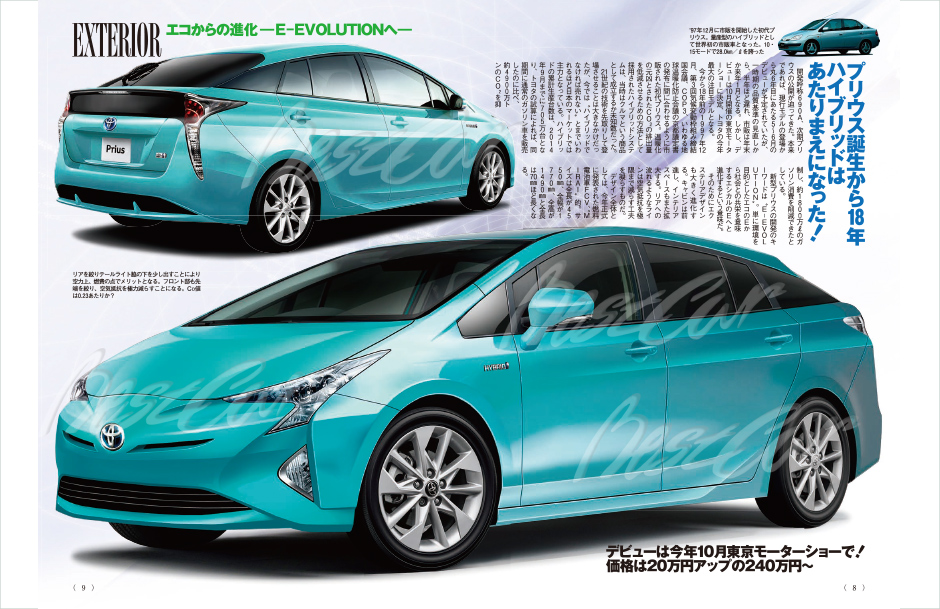 Also Read: 2016 Toyota Fortuner variants and features leaked
The 2016 Toyota Prius will feature improvements to its Hybrid Synergy Drive powertrain, resulting in a fuel economy of 40 km/l (JC08 test cycle). The petrol unit's rated at 105 PS and 147 Nm of torque, while the electric motor generates 90 PS. The hybrid powertrain in total transmits 145-150 hp to the front wheels. The hybrid drive's characteristics can be tunes in four driving modes: Normal, Power, Eco and EV.
2016 Toyota Prius Hybrid specifications (reported)
Length x Width x Height - 4,550 mm x 1,770 mm x 1,490 mm
Wheelbase - 2,700 mm
Weight - 1,280 kg
Powertrain type - Hybrid Electric
Engine type - DOHC inline four-cylinder petrol
Engine displacement - 1,797 cc
Engine code - 2ZR-FXZ
Max power - 105 PS (104 hp) @ 5,200 rpm
Max torque - 14.5 kg.m @ 4,000 rpm
Electric motor maximum output - 90 PS (89 hp)
Combined output - 145-150 PS (143-148 hp)
Transmission - eCVT (electronic Continuously Variable Transmission)
Fuel economy in JC08 test cycle - 40 km/l
2017 Toyota Prius Plug-in Hybrid specifications (reported)
Length x Width x Height - 4,550 mm x 1,770 mm x 1,490 mm
Wheelbase - 2,700 mm
Weight - 1,350 kg
Powertrain type - Plug-in Hybrid Electric
Engine type - DOHC inline four-cylinder petrol
Engine displacement - 1,797 cc
Engine code - 2ZR-FXZ
Max power - 77.2 kW/105 PS (104 hp) @ 5,200 rpm
Max torque - 147 Nm (14.5 kg.m) @ 4,000 rpm
Electric motor maximum output - 90 PS (89 hp)
Transmission - eCVT (electronic Continuously Variable Transmission)
Fuel economy in JC08 test cycle - 70 km/l
[Source: Best Car via I LOVE Sports Car]