Update - Corsa Italia has presented a rendering of the 2016 Fiat 500.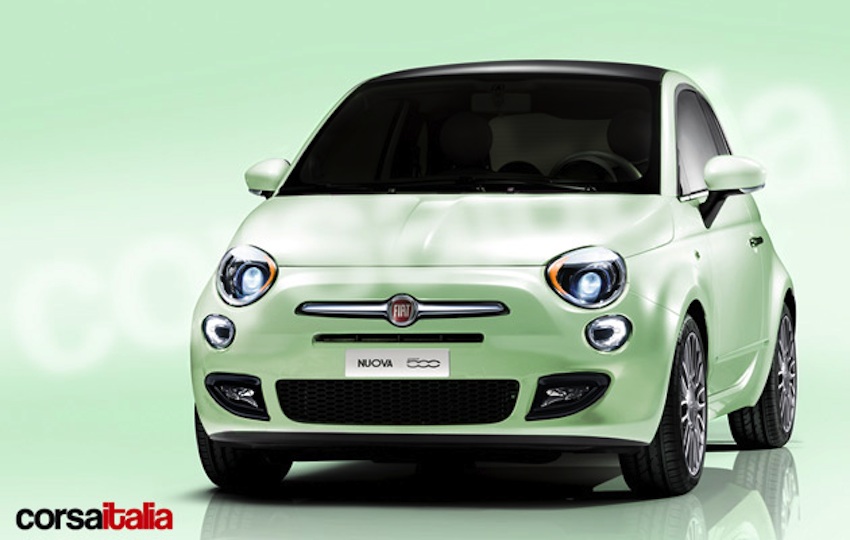 June 2, 2015
Will make its debut on July 11.
Courtesy of tipster, Ferd, a couple of FCA presentation slides about the "Series 4" facelift for the Fiat 500 have leaked online, revealing the changes in store for the iconic Italian hatchback.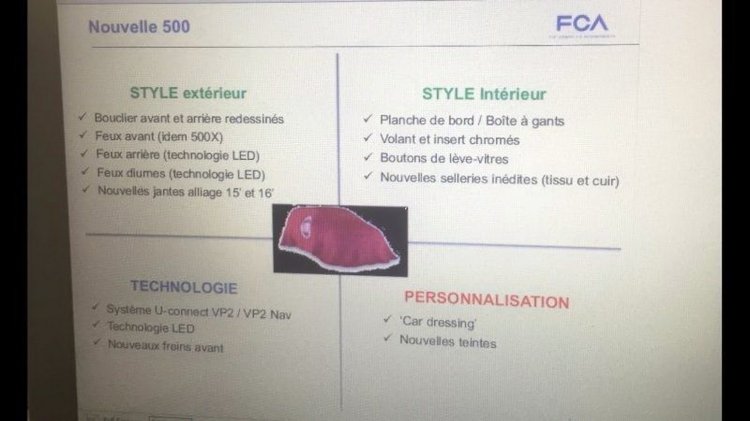 Although the basic design will remain intact, the 2016 Fiat 500 integrates new updates that further modernizes the Fiat "Cinquecento".
For starters, the 2016 500 will feature a redesigned front and rear bumper set, new LED headlamps from the 500X crossover, LED taillights, and new 15- and 16- inch alloy rim designs. Fiat will also introduce a bespoke 'Car Dressing' option that allows customers to personalize their Fiat 500.
Interior updates include new chrome inserts for the steering wheel, re-styled buttons for the power windows, and an array of leather and fabric upholstery options. In terms of equipment, it comes with a 5-inch touchscreen powered by the FCA's UConnect infotainment system from the Alfa Romeo Mito.
The current Fiat 500's engine lineup is likely to be carried over to the next model, which includes a 1.2-liter 8-valve engine with 69 PS and 102 Nm, and the 0.9 TwinAir available in two power states (85 PS and 105 PS). Transmission options include a 5-speed manual and a 5-speed Dualogic AMT gearbox. The presentation slide also shows that the facelifted 500 will be equipped with a new set of front disc brakes. Also Read: Fiat Aegea not in Fiat India's current business plan, Abarth & Jeep launch in 2015
According to the leaked slides, it will be presented to select audience on June 10, followed by a world debut on July 11. The production of the 500 Lounge and 500 Club variants will being on August 20, followed by the 500 Pop and 500 Popstar models in September.
Fiat 500 "Vintage 57" - Image Gallery (unrelated)
[Source: Ferd & CorsaItalia]