The development of the 2015 Volvo XC90 is progressing at a sedate pace as it is expected to debut by the end of 2014.
The long overdue replacement will be based on Volvo's new Scalable Platform Architecture (SPA) which will underpin most of the future products from the car maker. Thanks to the new platform the upcoming SUV would be about 150kg lighter than the current car.
The name Volvo is synonymous with safety and the Swedish automaker will push the envelope further with the new SUV. Automobile-magazine.fr has presented a drawing of the tech-filled SUV this month.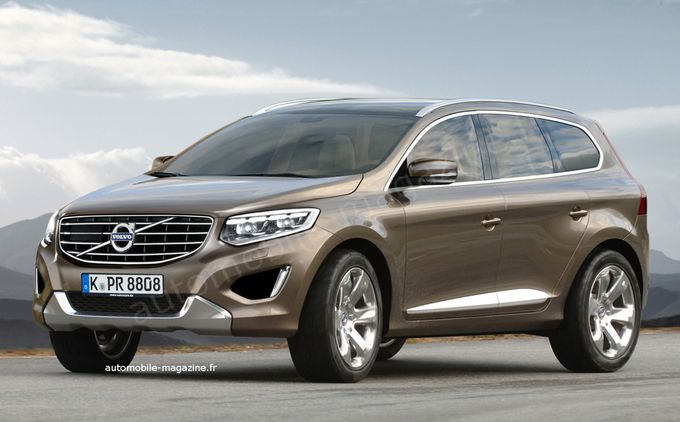 Current Volvo cars feature numerous safety assistance systems like adaptive cruise control, pedestrian detection and even a pedestrian airbag! So what is the future flagship SUV going to have that's not there already?
An improvised adaptive cruise system that clubs the function of the lane change assistance would allow the new XC90 to automatically follow the car ahead even through the curves without any steering inputs. Now that's more like it!
Volvo previewed this and a host of other mind boggling safety features for SPA platform products a few weeks back, releasing a lengthy press release and video clippings of the features at work. They didn't identify technologies that would be available on the new XC90, but most of them should be integrated into the car over time. One such technology was the auto-park feature, which could find a parking space and fill it autonomously, after the car dropped you off at the entrance of the building.
The new downsized VEA (Volvo Engine Architecture) family of four cylinder petrol and diesel engines will replace the current car's 5, 6 and 8 cylinder motors. The top-end version of the XC90 would incorporate hybrid systems which would use a flywheel to store electricity instead of batteries.
The 2015 Volvo XC90 is expected to be the new benchmark in automotive safety.
[Source: Automobile-magazine.fr]