Here's a rendering of the 2015 Renault Scenic which is expected to go on sale in Europe in the next couple of years. In May this year, Renault confirmed that the replacements for the Espace, Laguna and the Scenic would be produced starting next year at the Georges Besse plant in France where it is investing 420 million Euros (3,553 crore rupees) to upgrade the facility. All models will be built on one production line so that they can easily adapt to the fluctuating demand and will use 'standardized architectural components'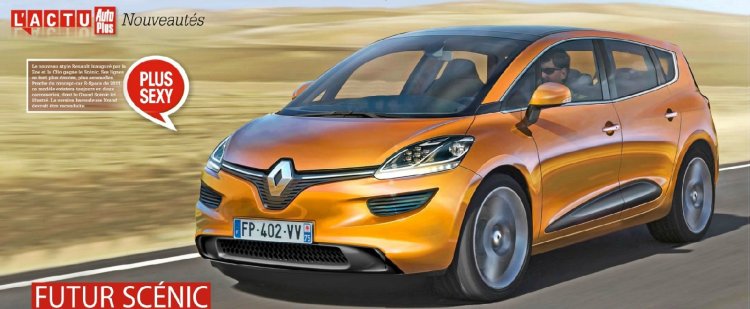 It is revealed today by French magazine Auto Plus that the new Scenic will come in two variants - standard and grand.
The sketch shows what the production version of the sleek R-Space Concept would look like, but can Renault make it this good looking?
The magazine has also illustrated features like table trays on front seat backs, a dedicated air-con unit between the front seats, a large touchscreen display on the dash (featuring the Renault R-Link system) and a fully digital instrument cluster.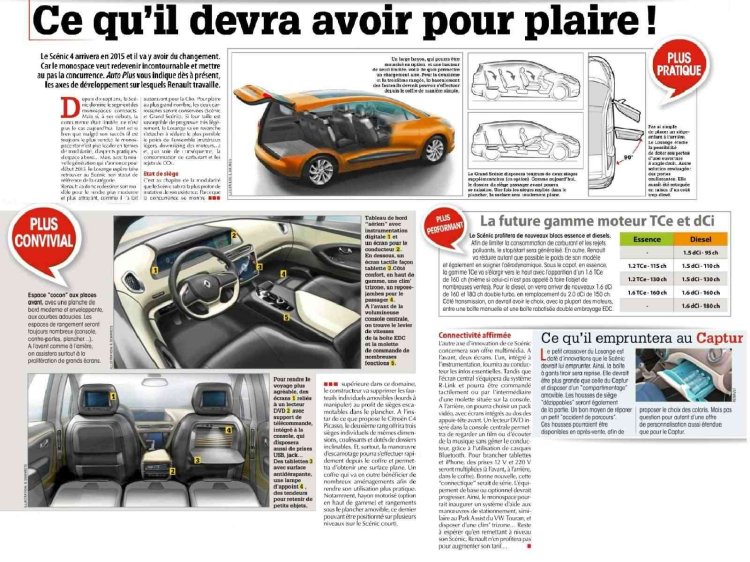 The 1.2L turbo petrol engine in 115 hp and 130 hp outputs and a 1.6L turbo petrol with 160 hp makes up the petrol lineup, while the diesel lineup is constituted by the 1.5L engine with 95 hp, 110 hp and 130 hp outputs and the 1.6L diesel engine in 160 hp and 180 hp outputs.
The Scenic's biggest rival is the Citroen C4 Picasso, and with such a promising design, a tech-packed and cozy cabin and a diverse powertrain lineup, how will Citroen be able to respond to this attack?
[Images from WorldScoop]