As polarizing as the BMW X6 was when it was launched, there is no denying that it is indeed a success now. The outcome was obvious – Mercedes and Audi are already in-process of developing their own coupe-crossovers.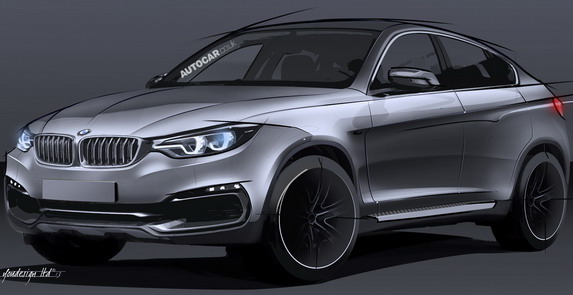 Keeping an eye on the competition, BMW has decided to speed up the development process of the next generation BMW X6. The X6 was recently given a slight facelift but the all-new X6 will hit the town in just 18 months, according to a report on Autocar UK magazine.
Autocar reports that new BMW X6 will adopt a more aggressive appearance than the predecessor. It is expected to grow slightly larger in size (33 mm more) to boost the interior space, an Achilles heel of the current X6.
Despite the length increment, it will be lighter because of the new composite steel structure. The new BMW X6 will adopt a shortened version of the chassis of the all-new BMW X5 (due this year). It will be reconfigured for a higher percentage of hot-formed high-strength alloys.
[The BMW X6 facelift was launched in India late last year]
More weight saving is expected to accrue from the new axle assemblies borrowed from the 5 Series. The new model will ditch a mechanical torque-vectoring system to adopt an electronic system, again to save some more weight. The lower models of the X6 will ride on steel springs and the higher models will get self-leveling air suspension.
The 2015 X6 will also feature something called as a 'FlexRay' system which would allow electronic upgrades to the infotainment system as well as the chassis when new software packages are available.
Multiple engines options will be available including -
Twin-scroll turbocharged 3.0-litre Petrol
Sequential twin-turbocharged 3.0-litre Diesel
Tri-turbocharged 3.0-litre Diesel
Twin-turbocharged 4.4-litre V8 Petrol
All engines will be mated to an eight-speed ZF automatic transmission.
There are also plans to launch a plug-in X6 ActiveHybrid which will feature a twin-scroll turbocharged 3.0-litre six-cylinder petrol engine with an electric motor situated within the gearbox housing deriving its power from a lithium ion battery pack stored under the floor of the boot.
Will the 2015 BMW X6 manage to keep BMW ahead of rivals in a segment that the Bavarian automaker pioneered?
[Source: Autocar.co.uk]