We have been actively covering all the updates that are flowing from the skunk works of Stuttgart about the 2014 Mercedes S Class.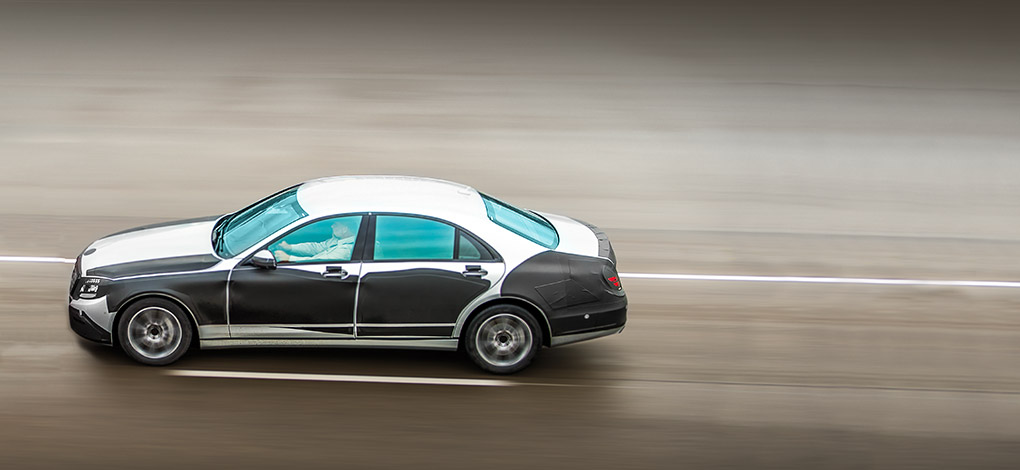 We have already covered some pretty interesting details in these two articles (Article 1 and Article 2).
The 2013 Mercedes S Class will make its world debut in May or June of 2013. That's a long time away for sure. But fresh details of the new technologies that will be presented in the next generation Mercedes S Class have been published by Mercedes Benz.
Here are the details of these exciting technologies with some graphical explanation -
Distronic PLUS with Steering Assist
It is an advanced version of the current radar guided cruise control. The system helps the driver to maintain the desired distance – even in stop and go traffic. The basic function of radar-based Distronic PLUS is now extended to the steering wizard, which assists the driver in the lateral control of the vehicle.
Brake Assist PLUS
The Brake Assist PLUS system now comes with an intersection assistant. Using a new stereo camera and radar sensors, the system helps to prevent rear-end collisions by increasing the brake pressure so that the driver can have controlled emergency braking
Adaptive Highbeam Assist PLUS
The mechanics of the headlamps have been revised to provide a glare-free high beam length using standard LED headlights. It can be permanently driven with high beam without blinding oncoming traffic.
PRE-SAFE PLUS system
In a situation of a collision, the S Class will deploy an inflatable seat belt in a bid to protect the chest of the passengers against the steering wheel.
Night View Assist PLUS
This system warns against animals and people at night by illuminating them several times by a Spotlight feature.
Traffic Sign Assistant
This technology will now offer the detection of overtaking and entry. It will identify road signs, road restriction, legal restrictions depending on the country.
Parking assistant
The parking assistant will be able to park the car without driver input. Even the brakes will be taken over by the technology.
2013 Mercedes S Class technologies illustrated
[Source: blog.mercedes-benz-passion.com]