In the last couple of months, we've been seeing many of these 2014 Mercedes S Class test mules running about on the Autobahns in Germany, faithfully covering thousands of kilometers in testing.
However, this is the first time we're getting a peak at the cabin layout of the Stuttgart based firm's new flagship sedan, thanks to spyshots from Mr. Toldi, a fan of MotorWard.com.
In first glance, it appears as though the folks at Mercedes have been very careful in covering even the interiors of the car. However, look a bit closely and some details come to focus, the first being the flat screens mounted behind the front seats. Of course, being the flagship sedan of the three-pointed star, we were certainly expecting the car to be packed with plenty of entertainment options.
So that's entertainment covered for now, but, what about comfort? Look closely at the rear seats and you notice they have foot recliners built into the bottom. They seem to suggest that the rear seat passengers of the S Class can recline themselves in what can only be described as business class style comfort and luxury. Audi started this trend of reclining rear seats on the current gen A8 and it seems Mercedes wants to follow suit.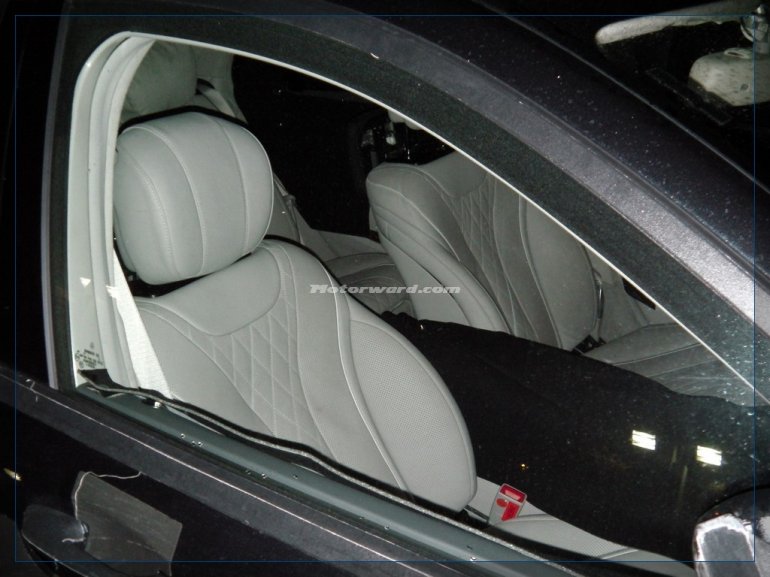 The buck doesn't stop there though. Look at those perforated-leather seats that are contoured as well. The perforations suggests the obvious heated/cooled seats feature one expects as standard in such a car.
The contours on the seat points to the seat massage function which Mercedes are offering on the current gen S Class as well.
Looking at the exteriors of Toldi's spy pics, the low profile wheels and the quad exhausts seem to suggest that this could be a S Class with an AMG body kit.
The 2014 Mercedes S Class won't be a single model, rather a platform for a lot of models including a cabriolet and a coupe. That being said, the Germans are expected to unveil the standard long wheelbase sedan this year and it would be interesting to know the equipment on offer. Lets face it, what is offered on the S Class ultimately boils down to smaller cars of the future.
[Source - Mr. Toldi of MotorWard.com]