The first spy photographs of the 2014 Hyundai i10 have hit the internet, but how many inferences are you able to make from these images?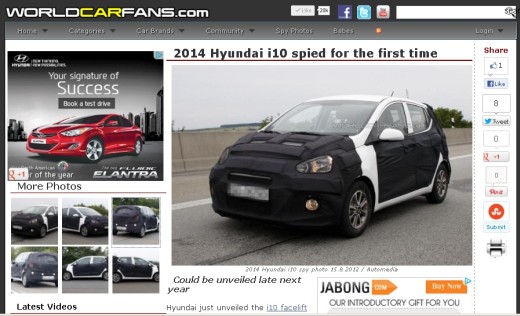 For starters, Hyundai is retaining the upward kink near the C-Pillar and the silhouette is much like the current generation model. The prototype seen testing has a large air intake and nicely swept back headlamps.
Codenamed BA, the next generation i10 will be produced in Turkey for the European markets. Currently Hyundai does not make the i10 anywhere but in India (Chennai plant). The successor's production will begin, perhaps around the same time next year, at the Turkish plant, where investments are being made to increase annual capacity to over 200,000 units.
The significant difference between the current gen i10 and the new model is the diesel engine option. Though Hyundai lists a diesel engine on the i10's brochure, it does not sell this variant anywhere in the world. Hyundai worked on the Kappa petrol engine, improving fuel economy of the 1.2L version, while also bringing out a smaller 1L version for the European markets.
In India, the i10 is sold with the older 1.1L Epsilon engine and the 1.2L Kappa engine. Hyundai should continue offering a LPG variant, while an EV version, like the one brought to the 2010 Auto Expo, may also be produced.
The new i10 is expected to premiere at the 2013 Frankfurt Motor Show.
Head over to WorldCarFans.com to see the gallery.