Ford India officially confirmed the launch 8 products by the middle of this decade. One of these eight products is definitely going to be a replacement for the aging Ford Endeavour which is known as the Everest in other parts of the world.
The current generation Ford Endeavour can be traced back to 2006. Essentially, the Ford Endeavour is a five-door wagon variant of the Ford Ranger pickup truck.
As the Ford Ranger pickup truck received an all-new model in 2010, we can assure you without a hint of a doubt that the Ford Endeavour's replacement is also in the pipeline.
2014 Ford Endeavour/2014 Ford Everest product summary
As it has been in the past, the next generation Ford Endeavour will share most of its components with Ford Ranger T6.
It is being developed under the guidance of Todd Hoevener, Ford's SUV specialist who also developed the iconic Ford Explorer, at the the Broadmeadows facility in Melbourne.
Todd apparently wants the new design to be aerodynamic which will be a refreshing change from the old one.
The torsion spring suspension up front will be replaced a new coil over strut suspension and the rear suspension's leaf springs will be replaced by better ones. The rack and pinion steering will be re-worked to remove the play from re-circulating ball systems to provide a more precise feedback. Both these changes should improve the road manners of the new Endeavour.
It will have a more upmarket cabin on the lines of the current Fiesta.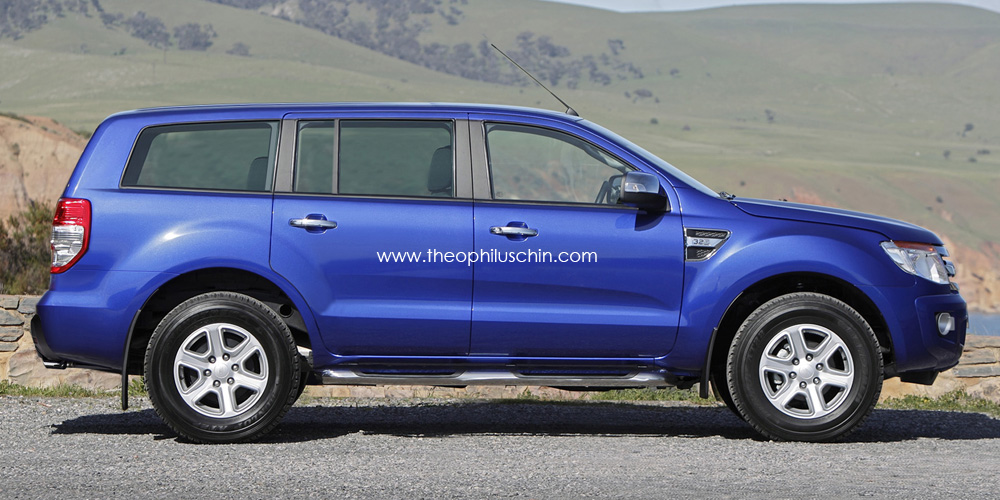 It will keep its three row seating arrangement. The third row will possibly be a fold-flat seat system to provide additional boot space when needed.
It will have an all diesel lineup – 2.2 TDCI, 2.5 TDCI and 3.0 TDCI. We could possibly see a 2.0 EcoBoost petrol but it is purely speculative.
The diesel engine line-up will be offered with a choice of 4×2 and 4×4 drivetrains as well as manual and automatic transmission options.
As the new Ranger was the first pick-up truck to get a five-star Euro NCAP safety rating, we believe its creds will be passed on to the new Endeavour as well.
It will roll out of the Thailand plant where it is currently manufactured and will be shipped to Chennai, where it is assembled, sometime in 2014.
[Rendering Courtesy: Theophiluschin.com]