While we have been bringing you spy pictures of the refreshed BMW 5 Series undergoing tests abroad, the pictures of the facelifted 2014 BMW M5 has leaked online. The images were leaked on BMW's German website car configurator, thanks to a BMW employee who accidently uploaded the images ahead of schedule.

Exterior wise, the refreshed M5 features a different front grille. The kidney shaped grille features larger vertical slats as compared to the existing model. There doesn't seem to be any other changes at the side or the rear. The alloy wheel options remain the same as well.
Inside, the updated M5 features a few interior upgrades. The first is the new steering wheel which has evolved to become much thinner and slimmer than the existing model. There are new paddle shifters as well and they look much more upmarket than the existing one.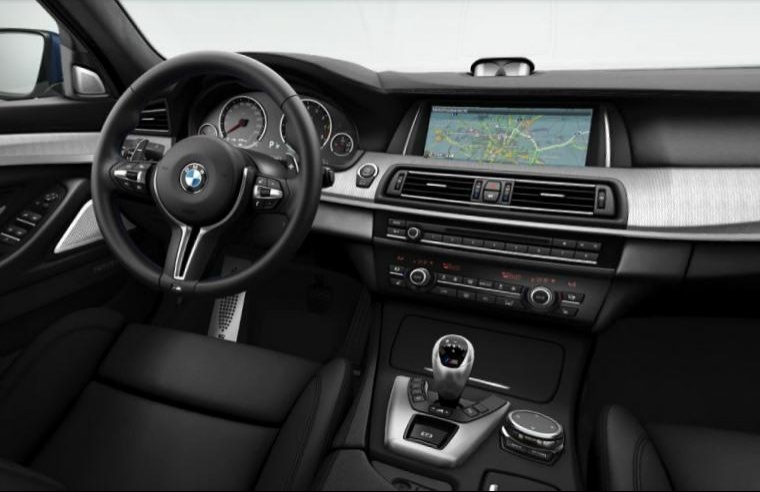 Also included is a new touch sensitive iDrive controller. Apart from that, there are no other noticeable upgrades to the interior or the exterior.
While under the hood the new M5 is expected to carry the same 4.4-liter V8 TwinTurbo engine, there are reports suggesting that BMW would introduce a new Competition Package that could boost the power to 575bhp from the already existing 560bhp. This makes sense as the new Mercedes E63 AMG S makes 577bhp and holds on to the 'most powerful performance sedan' title.
[Above - Images of the current 2013 BMW M5 attached for reference. Note the front grille and the steering wheel with the paddle shifts.]
The updated M5 is expected to cost from 103,300 EUR (INR 73.49 lakhs) when it goes on sale later on this year.
2014 BMW M5 Image Gallery
[Source - Carsession.com via World Car Fans]