Launched in 2010, the BMW 5 Series instantly became the global best selling sedan in its category and retains the crown till date.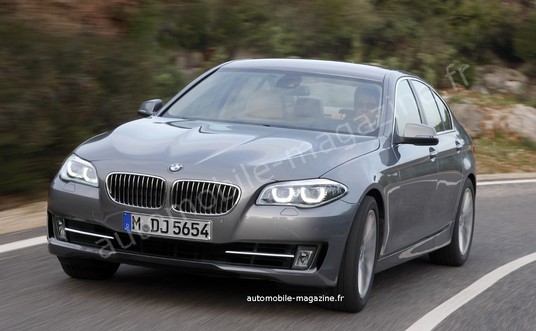 It became the most important model in BMW's stable and helped the Bavarian brand to stay at the top.
Now, BMW's advantage is narrowed down by Audi who are relentlessly charging ahead to snatch the leadership from them. The Mercedes E Class is not to be discounted either, as it gets important updates in the form of a facelift next year.
So, upgrading their best seller to tackle the peril seems to be logically the right thing for BMW to do.
The styling of the 5 Series still feels fresh and BMW is expected to maintain the status quo except for few subtle changes in the headlamps. The new headlamps are likely to get the projector units composed of diodes like the assembly on the 6 Series.
On the inside, the new i-Drive system may incorporate a 3D display which will have BMW's 'connected drive' features. The emails and SMS can be read out and the system will even write messages for you as you speak.
In terms of safety, the car will get a thermal camera which will be handy in detecting pedestrians or animals in the dark.
A downsized engine emitting around 100 g/Km of CO2 is expected to join the current engine lineup with the facelift's introduction.
The refreshed BMW 5 Series could make its debut at the Frankfurt motor show next year.
[Source: Automobilemagazine.fr]