According to a report on Business Standard filed on Tata Motors' financial result announcement, a new Nano variant will be launched in June.
Tata Motors has restrained from giving details, but the MY2013 Tata Nano spotted testing numerous times in Pune and captured on camera while filming its promotional footage is the car in question.
The Nano isn't relaunching with a sea of change. New improvements have cascaded into the Nano in a slow and steady fashion. Minor updates were made to the car shown at the 2008 Delhi Auto Expo when its pricing was announced in March 2009. Last year, the 2012 Tata Nano wore revisions to the interior to enhance appeal and to the powertrain that resulted in higher outputs and mileage.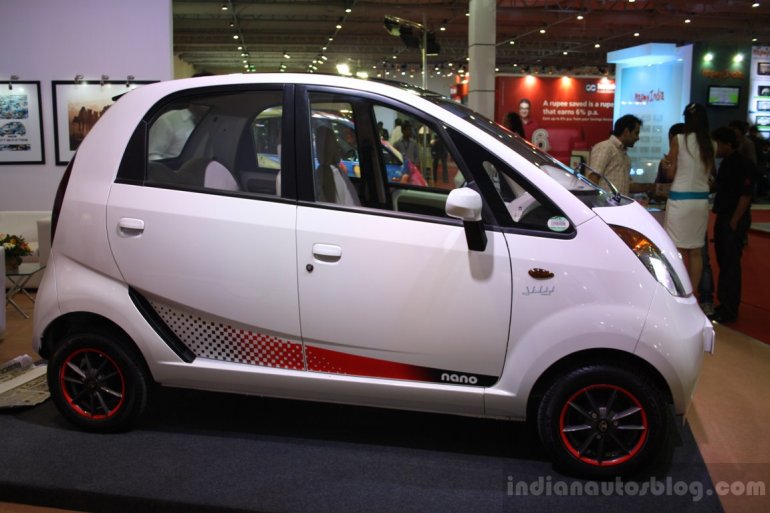 The third round of changes will see the car's rear bumper change to aid better air flow into the engine compartment. Chrome trimmings to the body and new wheel caps top off exterior changes. The 2013 edition is likely to be treated to new paint options too.
The interior could feature a single visible change - the hazard light switch relocates from the steering column to the between the central aircon vents.
Tata has been vocal or displayed Nano prototypes hosting a power steering, front disc brakes, diesel engine,  CNG technology, Start/Stop motor and new body colors. These features may also be included in future roll-outs and going by history, they would trickle into the car in a phased way.
We now wait for teasers or more hints from camp Tata on the 2013 Nano. Stay tuned to IndianAutosBlog.com to keep a tab on the upcoming Nano.
Inset shows the Tata Nano Individualized concept that has no connection to the story.
[Source - Business-Standard.com]