We have so much information available on the next generation Octavia (called Laura in India) and a couple of days ago we shared a piece with you about the next generation Octavia sharing its power mills with the VW Golf 7.
[can't see the video above? Head over to Youtube]
But now we have conclusive proof of the next generation Octavia as it is caught on tape wearing scanty camouflage on the R10 expressway in Skoda's hometown Czech Republic.
What do we know about the 2013 Skoda Octavia?
It will be based on an extended wheelbase MQB platform to separate it from the newly launched Rapid saloon. This new platform already supports the Seat Leon, Audi A3 and the Volkswagen Golf.
Despite being a sedan, the new Octavia will feature the layout of an oversized five-door hatchback
It will be longer and wider than the previous generation. The overall length could stand at 4.8m making it the longest Skoda Octavia ever produced. The wheelbase will be stretched to 2,620mm (from 2,578mm).
It will be 80 kg lighter to improve performance and fuel economy.
It will feature the new VisionD styling showcased at the 2011 Geneva motor show.
The car will be available in two body styles – liftback and wagon.
It will be more up market with better quality materials for cabin and dashboard regions to stay ahead of the new boy, the Skoda Rapid.
Under the hood, you will find –
1.4 liter petrol TSI engine producing 138 BHP
1.6 liter diesel TDI engine producing 104 BHP
The vRS model will benefit from a 2.0 liter TSI producing 220 BHP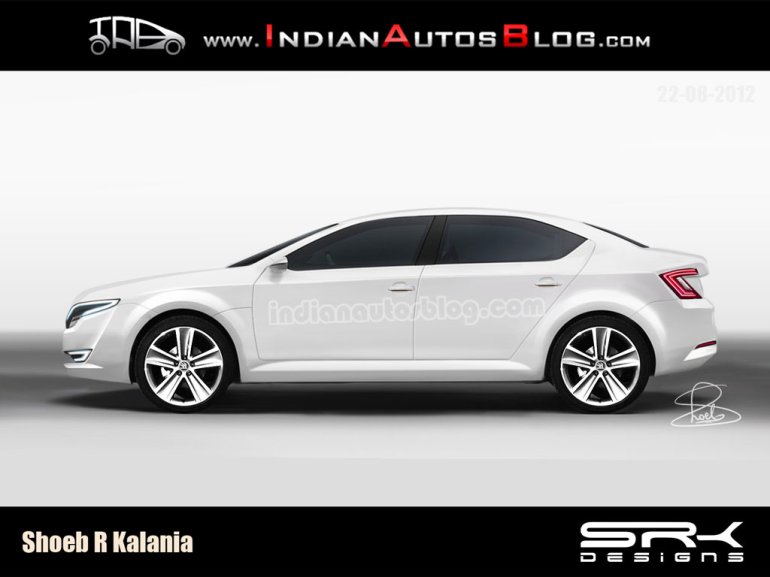 Skoda will officially present the new Octavia in November with sales starting in early 2013. The entry-level versions will provide more value and affordability and the high-end variants will compete with more luxurious offerings from other established European automakers.
The next gen Octavia will head to India to replace the Skoda Laura. Skoda India may bring the European Rapid to India to revive the Octavia moniker, but we don't know for sure if this move will crystallize. Whichever the case maybe, the next gen Octavia has to do what the Superb did to brand Skoda, if it has to call itself a success.