It was a lucky day for a bicyclist in Spain, as he got an opportunity to film a 2013 Mercedes Benz S Class. The S Class's attire hugs its body revealing what lies underneath.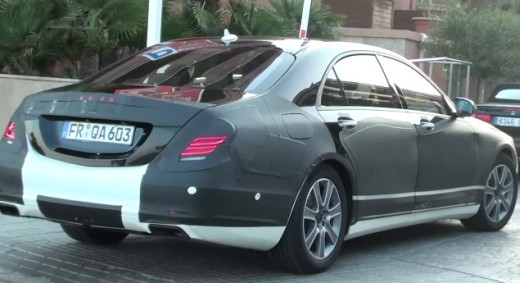 You can get the image of how the car looks if it was undisguised. To welcome the new S Class, BMW has already revealed the updated 7 Series, but the 2013 S Class will benefit from the new car image and is certainly heralding the automobile to a new generation with all kinds of technologies.
It is rumoured that the new S Class will have Cabrio version too, and the other body styles include a sedan, long and extra-long wheelbase versions and finally a coupe. We may also get a high-end Pullman edition.
Without fail, the S-Class will pay a visit to AMG's garage that will lead to the rise of untamed variants (S63 with a V8 engine and S65 with V12 engine) with vast amounts of horsepowers and torques.
2013 Mercedes S Class spy video
[Direct link to the video - Head to Youtube]
The new S Class might boast of a 9-speed automatic transmission, but Mercedes Benz hasn't confirmed this rumour. The 2013 model also comes with new safety devices that could make the S Class the safest car on sale today. One of the devices that is worth mentioning is the "'Braking Bag" which will deflate under the front axle during emergencies. This will help the car decelerate faster and prevent the car pitching forward under braking.
We're yet to understand the complete benefits of this technology, but features appearing on the S Class will funnel down into smaller Mercs in the coming years. Mercedes will reveal the next gen C-Class in 2014 and show the new E-Class a year later.
The new S-Class will be revealed either at the Paris Motor Show this year or at next year's Geneva Motor Show.
[Source - CarScoop.Blogspot.com]