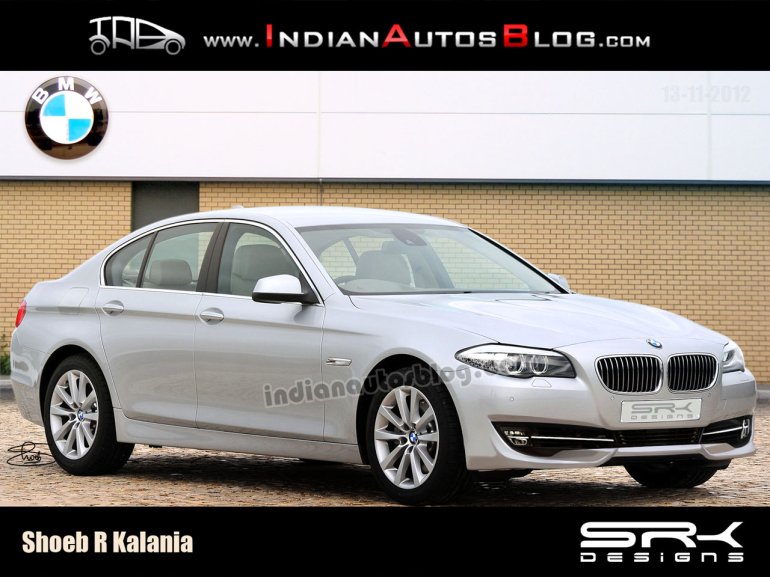 BMW managed to pull a master stroke when it launched the new 5 Series (F10) in the global markets. The previous BMW 5 Series may be one of the best driver's car on sale but it had a very stiff ride.
The new BMW 5 Series rectified every flaw of it its predecessor comprehensively making it one of the most successful model in BMW's lineup.
In fact the even the sportier M5 has a perfect suspension setup which is always game for attacking corners on the weekends, and iron out speed breakers on the way to work on Monday morning.
But come 2013, BMW is ready to give the new 5 Series a new lease of life before the all-new model kicks to life later in the decade.
The BMW 5 Series facelift will feature squared-off angel eyes seen on the 6 Series and 7 Series along with new grille design and an updated bumper. The positioning of the air intake will be slightly lower than the current model along with a larger kidney-grille. The side mirrors will also be sportier and feature indicator lights. The tail lamps will receive a small facelift but the overall design will not change. The rear bumper will also get a slightly tweaked design.
On the inside, BMW will refine the ergonomics and add new equipment and technology to the 2013 BMW 5 Series. BMW will also endow the new 5 Series with the latest version of its iDrive multimedia system and a configurable instrument display recently introduced on the facelifted 7 Series.
Engines options will not change. The existing range of petrol and diesel engines will be carried over. But we hear BMW has plans to re-work the electromechanical steering system to make it feel more tactile.
The BMW 5 Series facelift (codename - BMW F10 5 LCI) will head to production in July 2013.