Sep 15, 2012 - 2:25pm IST
Filed under General Motors, Spy pictures, Chevrolet Sail
Spied - New sighting of the Chevrolet Sail EV; Can it do what the Spark EV couldn't?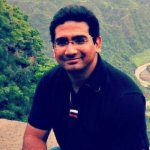 Kaustubh Shinde, They say sooner or later your passion finds you. Sometime in late 2009, I started writing for IAB and ever since then it has been a roller coaster ride for me. An amazing experience that has taught me a lot, taken me to new places, driven some great cars and met some amazing people. When you don't find me on IAB (very rarely), you will find me either at a coffee shop or an eatery or at the nearest gadget store. Hope you enjoy IAB as much as we do!
As GM India is flexing its muscle to introduce three new cars in Indian market by the end of 2012, far away in China, the GM-SAIC venture in testing an EV version of the Sail.
We have already seen this EV before, but now the folks at 0556qc.com have caught the test mule uncamouflaged.
The Sail EV debuted at 2010 Guangzhou Auto Show in its concept avatar. It is being jointly developed by Shanghai GM and PATAC Shanghai Pan Asia Automotive Technical Center. The spyshots reveal that the car is almost production ready.
If you notice carefully, there are no Chevrolet badges on the production ready model hinting the fact that GM may be planning a separate brand for EV vehicles in China
The Sail EV is powered by an electric motor which generates a max power output of 87 hp and peak torque of 220 Nm. The car can accelerate to a top speed of 130 km/hr. It gets the juice from a lithium-ion battery pack which has a range of 150km.
Moreover, the Sail EV is fitted with a power recovery system that recharges the battery pack by harnessing the braking force of the car. As for the charging time, your household 220V socket can fully charge it in 7 hours.
The pollution-conscious Chinese government grants massive subsidies for electric cars. Thus, you can expect GM-SAIC to price it very competitively with respect to the petrol counterpart. The Sail EV could be officially revealed at the Guangzhou Auto Show in November this year.
Back home, GM India is getting ready for a product onslaught in the last quarter of 2012. The American automaker plans to expand its dealership base to 300 outlets by the year end. General Motors India currently has 279 sales points and 272 service outlets. New dealer showrooms are planned in cities like Bangalore, Hissar, Una, Nawashehar, Rohtak and Amritsar.
Sail EV to bear the torch of the Spark EV?
GM India worked closely with REVA, before it was acquired by Mahindra, on the EV version of the Spark. The Spark EV came to the Auto Expo and it was a rolling prototype that got everyone excited. GM India's Karl Slym, current heading Tata Motors, back in 2010 dreamed of selling a proper EV to India (one that has four doors, decent luggage space, and came with ample service backup) but then that stayed as a pipe dream.
GM India conducted trials of the Beat EV in India last year. GM officials opined that the lack of infrastructure would make their EV a damp squib.
Seeing Mahindra come to the market with the NXR this year, and the 23,000 crore rupee program rolled out by the Indian government to encourage the use of electric cars, GM India may well be interested in carrying out another feasibility study. The locally manufactured Sail could serve as a perfect mule for this experiment.
As for the Spark EV, the only thing could be salvaged was its front fascia, expected to be worn by the Spark facelift that will celebrate Diwali this year.
GM India has not had the best of the Augusts this year. Sales dipped by over 17% and stood at 7,510 units as against 9,050 units sold in the month of August 2011. The festive season will be a deciding time for GM India. We will see the Sail hatchback and Sedan very soon; followed by an a MPV by the end of this year.
[Source: 0556qc.com]