The new CR-V has been the talk of the town lately. Honda has exposed the CR-V in the concept form and some leaked images suggest that the production version of CR-V is no different.
But thanks to Brenda Priddy, we now have images of the production version of the new CR-V. Oh yes, interiors included.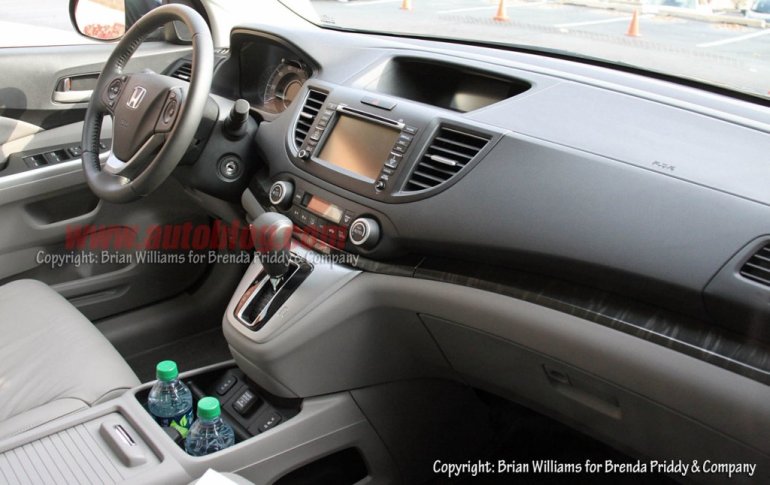 As one can see the production version is not that different from the concept form. It is a complete departure from the old CR-V. It has grown bigger and broader from the earlier generations. The extended tail suggest that now the CR-V will be a 7 seater. The model caught over here is an AWD model and reportedly Honda has promised a 4X2 as well.
The interiors have also been revamped completely. The new CR-V gets dual color interiors, steering mounted controls, a 6 inch display for entertainment needs and another small screen atop for driver information.
The model caught over here is an automatic one. Manual transmission should also be on cards.
It is common knowledge that the new CR-V will continue to use Honda's 2.4-liter four-cylinder engine. Power and performance figures are still known. In order to know every bit of the new CR-V, do visit us during the next week as we get you live updates of the LA Auto show where the CR-V will be launched.
Meanwhile here in India Honda is tight lipped about a local launch. They told us that an Auto Expo unveiling is ruled out for the CR-V and Civic models that have reached dealers in other parts of the world. Honda has to work out a CKD plan to bring down the cost and provide a diesel engine option if the new CR-V has to make the X1 and Fortuner sweat.
[Head over to AutoBlog.com for more images]