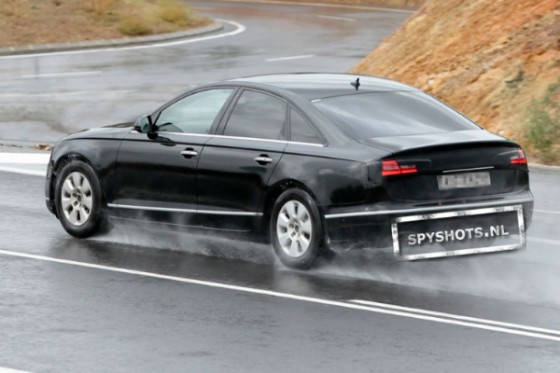 We brought you the first spy shots of the next gen Audi A6 and now we bring you some more pictures of the same. What is clearly evident from the spy shots is the lengthened wheelbase of the car. The trademark Audi LED's at the front and the rear remain and so does the coupe like silhouette.
The 2012 A6 is based on the new Audi MLB Platform and will come in both 2 wheel drive and Quattro options. It will come with a wide range of engines including a 3.0 V6 TDI, 3.0 Supercharged V6 and a 4.0 liter V8. Power outputs for these engines will range from 300 BHP to a whopping 550 BHP. Their will be more fuel efficient variants in the form of a TSI motor pumping out 200 odd BHP. The car will come with a dual clutch 7 speed S-Tronic gearbox. The 2012 A6 uses oodles of aluminum in its body to keep the weight in check.
The new A6 is expected to hit the Indian Market not before the 1st half of 2012 shortly after it makes its international debut in late 2011. Audi sells the A6 in minuscule numbers in our country thanks to the new 5 from BMW and the new E from Mercedes both of which are doing exceptionally well.
We told you earlier that Audi will be going aggressive in India starting 2011 as it wants to be numero uno in India in the coming years. The 2012 A6 will be a very important car for Audi and should do well for the company.
2012 Audi A6 Image Gallery
Source - Blog Automobile France