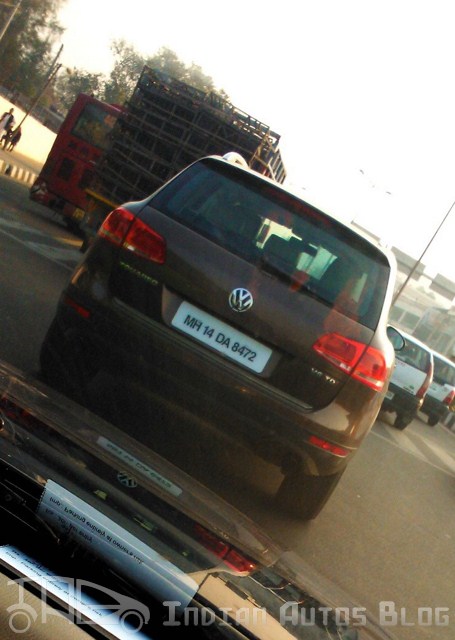 It may have taken Volkswagen about two years to launch the new Touareg in India from the time of its premiere but its close relatives from the Porsche and Audi stables kept many customers from moving to the BMW X5 and Mercedes M/GL-Class. The new Touareg was shown at the Delhi Auto Expo last month.
Here's the new Touareg spotted in Delhi by reader Lakshay Mohan Gupta earlier this week.
The new Touareg is nothing new to IAB readers as right from April last year we've been talking about it. For some reason Volkswagen chose not to launch it at the Auto Expo. The price of the new model with the V6 diesel engine is expected to start just above 42 lakh rupees.
Our friends at many Volkswagen dealerships tell us that they've suggested the company to price the five-seat Touareg attractively as alternatives from other German SUVs have brand power that can't be matched.
The CBU-route Touareg uses a 3-liter V6 turbodiesel engine that produces 240bhp/550Nm.
Volkswagen will launch the new Touareg very soon as select members from the media were recently invited to test the off-road capabilities of the vehicle.
2011 Volkswagen Touareg video from Delhi