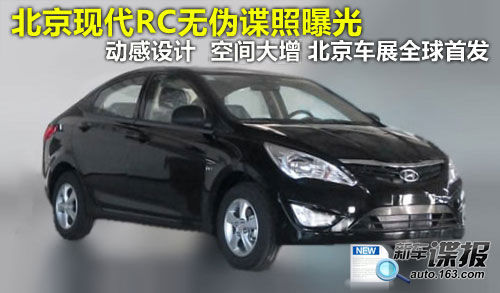 The next generation Hyundai Accent/Verna you see here, could be launched in India by the end of next year sporting a 1.6-liter petrol and 1.5-liter diesel engine (same engine block, added technology). It could be built at Hyundai's Chennai facility and would present itself as an alternative to the Honda City, if our guesses are right. The engineering under the vehicle could be exactly the same as the Hyundai i20, but we have no confirmation.
Spied in China, the next generation Hyundai Accent/Verna is reportedly waiting under dust sheets for an unveiling at the Beijing Motor Show. This spy picture doesn't reveal anything more than what we've seen previously. IAB has tracked every move of the 2011 Hyundai Accent/Verna. We almost became an unofficial website to this car, which to us is a very important model for Hyundai India who is perceived as a budget hatchback manufacturer.
The vehicle could undergo a cosmetic makeover suiting Indian tastes when it arrives here next year. Similarly in the US, Hyundai could tweak its looks to suit regional preference.
On first glance, the Hyundai RB looks like a cross between the Avante and the next generation Sonata. We have already seen the beige interiors in the previous shots which Indians will adore. Hyundai has applied its trademark fluidic design sculpture on this compact sedan which is already gaining 'mini Sonata' as its other name.
A 1.6 GDi that produces 140bhp could make it on to the RB soon. Also allegedly in the works is a hybrid powertrain.
We'll wait for the official photographs before making more comments.
Image Source - auto.163.com