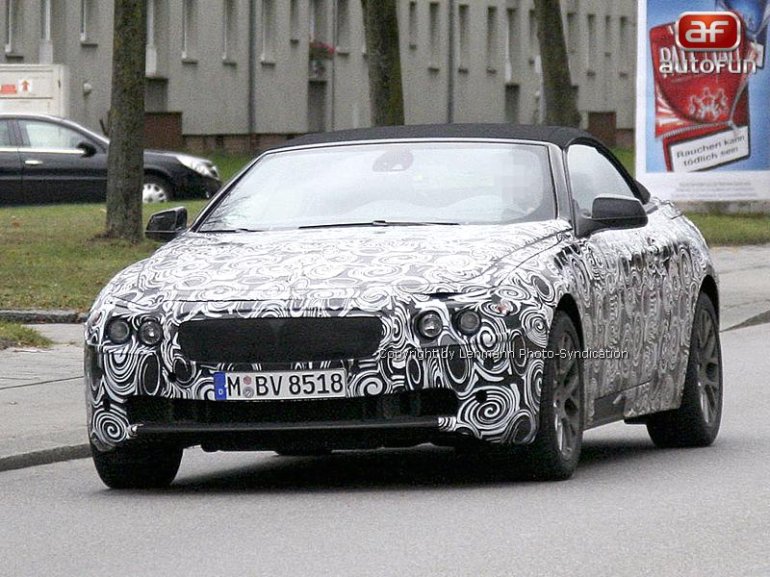 The present generation 6 series isn't exactly a pretty car (mind you, i just love it!), but the opinion is divided. With the latest generation 7 series going a bit conservative, you might be tempted to think that other models would follow suit. The camo gives very less away and is cleanly covered giving nothing away. The next generation BMW 6 Series, dubbed F13 and due to be launched in 2010, has been spotted in Munich.
The test mule comes as a surprise as two years before the official launch, the test mules are usually "equipped" with heavy plastics that fake the real shape of the car, but in this case, BMW is at a stage where they're using the now-famous patterned camouflage.
There are a few things we know about the F13 at this moment, BMW will not be drastically changing the current successful design, it will be longer than the current model, the headlights will be similar to the ones on the CS Concept, but will not have the circular cut out, just a straight across slit.
The driver-oriented cockpit will make its return as seen in the new 7 Series and most likely, there will be a hardtop similar to the ones in the 3  Series cabs. As far as the engine line-up, it's still too early to speculate, but we will definitely see a more powerful engine in there along with BMW's new eight-speed automatic gearbox. Also expected are BMW's strong diesel versions. This would make a lot of sense in India as the only options available are the 4.0l V8 and the M6 with 5.0l V10.
You can learn everything about the present BMW 6-Series sold in India on the Official BMW India Website
2010 BMW 6-Series Spy Shots
Source : BMW Blog