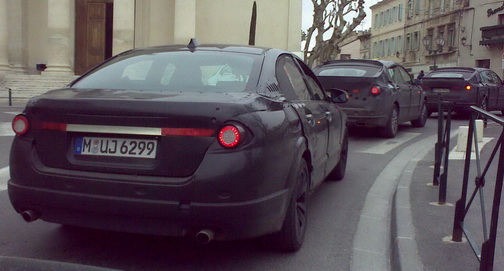 A convoy of camouflaged 2010 BMW 5-Series prototypes were spotted by Carscoop , at St Remy de Provence in the south of France. Reports suggest that the convoy consisted of a four-door sedan, a station-wagon Touring and a 5-door liftback-possibly the 5 Series Gran Turismo.
2010 BMW 5-Series Range - Possible Engine Options
Combination of Naturally aspirated and Turbocharged petrol engines
A revamped 326Bhp, 3.0-L twin-turbocharged inline-six cylinder engine
A 408Bhp, 4.4-L twin-turbo V8 engine
A new twin-turbocharged V8 engine that delivers well over 500HP for the M5 Sports sedan and Touring models.
Diesel counterparts to be left unchanged
2010 BMW 5-Series Range Spy-Images
Another BMW 5-Series Spy-Image came up in our Blog earlier
BMW 5-Series Gran Turismo production version will be officially unveiled at Frankfurt Motor Show in September '09.
The BMW 5 Series sedan and Touring variants will be launched in 2010 and will go on sale the same year
Source: Carscoop