Apr 29, 2009 - 7:37pm IST
Filed under bmw 5 series images, 2011 BMW 5 Series Sedan, illustration, new bmw 5 series, rendering, BMW 5 Series, BMW, Mercedes-Benz
Rendering: 2011 BMW 5 Series Sedan
Paranjay Dutt, Likes to read, write, and talk about automobiles whenever he can. The rest of the time, he can be seen behind his camera. Totally fails at writing Author Info, though.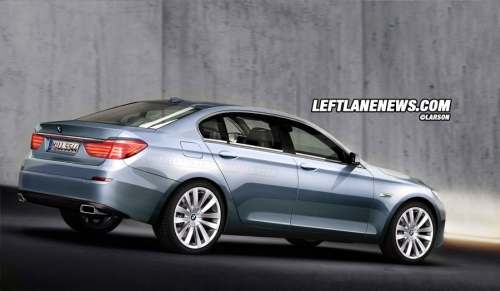 Left Lane News has come up with some illustrations of the 2011 BMW 5-Series sedan, by taking clues from Spy images of the same car.
Codenamed the F10, the new BMW 5 series will have softer lines in comparison to the current E60 with more conventional-looking headlights and a cleaner front-end design. This rendering has taken design cues from newer BMW releases like BMW 5-series GT and the new BMW 7-Series.
Due to new EU safety standards, the length of the front overhang will be reduced, but the entire car is expected to grow in size and 17-inch rims will come standard.
click through for 2011 BMW 5 Series Sedan rendering image gallery
2011 BMW 5-Series Sedan Renderings
Source: easycarblog