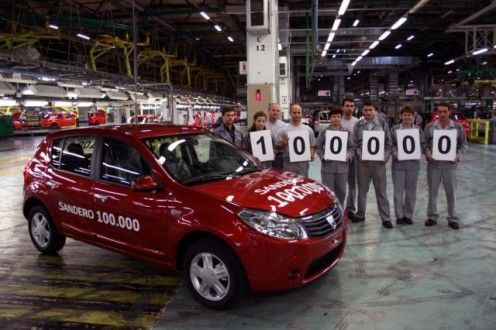 The Dacia/Renualt Sandero, if reports can be trusted, will be manufactured in India next year at the Nashik facility with a 1.2-liter petrol engine. It won't be a new beginning for Renault as 100,000 of them have been dispatched from production houses around world.
If you want a fast/frightening fact, the Sandero is a fashionable hatchback based on the same platform as the Renault Logan ! Yeah, the Sandero looks like it'll win the hearts of car buyers looking for something like the Swift or the i20, but the Logan on the other hand looks to have been inspired by a school girl's pencil box.
The Sandero was completely developed in France and Romania and the first example rolled out of Brazil in December 2007 with a Renault badge. It's never looked back since then, the production figure touched 100,000 last week and the Romanians had a small celebration in the plant.
The Sandero comes in many engine options- 1.0-liter petrol, 1.4 petrol, 1.5dCi, and 1.6 MPI petrol.
Source - Autokult Poland