Youtube user 'SenthilVR' has filmed a white, undisguised test mule of the Ford EcoSport driving on what appears to be the expressway outside the Ford plant in Chennai.
[can't see the video above? Head over to Youtube]
What you ought to know about the Ford EcoSport
The vehicle launches in early 2013.
It'll be the first mass market launch with a turbocharged engine though the market for petrol cars is shrinking.
There are three engine options - 1.5L petrol, 1.5L diesel, 1L petrol - expected to be on the table from D-Day.
The EcoSport is classified as a small car in India, and therefore it gets attractive excise benefits that helps Ford in pricing it smartly.
Ford has already launched the new EcoSport in Brazil and China. Over 700,000 EcoSports, in its first generation form, traverse Brazilian roads.
The EcoSport will be built for export markets in Chennai. The export market plan has not reached the public domain yet.
Over 700 crore rupees was invested on the Chennai plant to prepare the lines for the EcoSport.
Moving forward, the EcoSport will be made in Thailand. India, China and Brazil are the other three countries where the EcoSport is produced.
The EcoSport is based on the B3 platform that underpins the Fiesta. The core hardware will be used on future Ford products for the Indian markets such as the next gen Figo, Classic, B-Max, etc.
Ford designed the EcoSport in Brazil. The exterior was launched by Ford CEO Alan Mulally at the 2012 Delhi Auto Expo, while the interior was revealed in Beijing and Brazil simultaneously in April.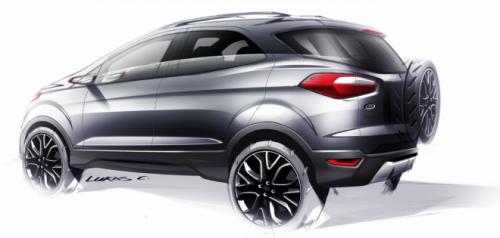 You can catch our complete Ford EcoSport coverage for more images, spyshots and details.