The Yamaha YZF-R25 has received a fabulous response from the Indonesian riders as 2,800 units were booked in the first 25 hours of the launch. Yamaha Indonesia had to halt further bookings and postpone the motorcycle's export plan to manage domestic demand. The motorcycle's deliveries commence next month.
Yamaha released the technical specifications of the new quarter litre sportbike but kept the performance stats under the wraps. Now Madrives.com has published an image of the R25's speedometer indicating 173 km/h at around 12,500 rpm during a media ride event. The R25's 250cc parallel-Twin engine produces a peak power of 36 PS at 12,000 rpm so we can safely assume the top whack to be very close to what is indicated in this image.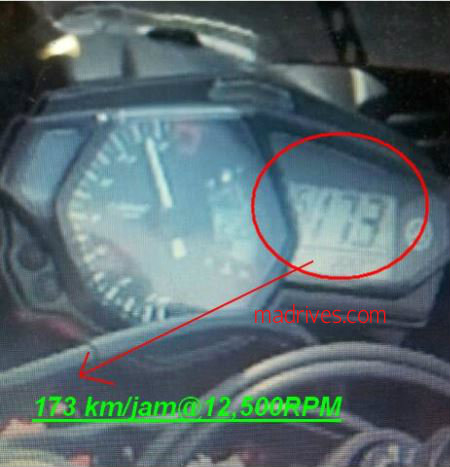 The newest Yamaha's top speed is comparable to the Kawasaki Ninja 250 which has a top speed of around 175 km/h and is obviously faster than the less powerful Honda CBR250R. The potent engine combined with a good handling, as evident from the video of the bike taking on a race track, makes the R25 a skilled rider's tool.
Yamaha is seemingly developing a special edition version of the R25 in association with an Indonesian tuning specialist. The bike in question sports the Ackropvic exhaust system to extract more performance from the motor and wears Yamaha's MotoGP livery.
Expect the R25 to launch in India within 18 months.
[Source: Madrives.com]